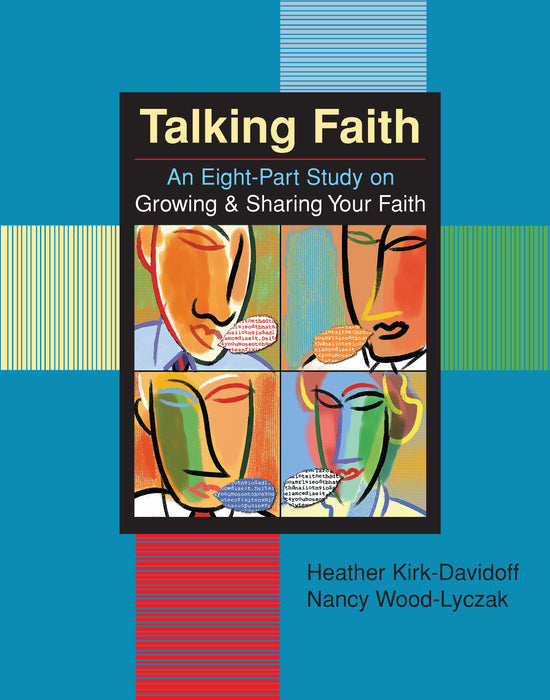 Talking Faith: An Eight Part Study on Growing & Sharing Your Faith
Talking Faith is not about teaching people what to believe or about going door-to-door in an evangelism campaign. It is about helping people to better understand and develop their own faith and helping them to be comfortable in sharing their faith with others. Heather Kirk-Davidoff and Nancy Wood-Lyczak believe that the key to nurturing faith lies in two Christian practices: prayer-conversation with God; and evangelism-conversation with others, especially those who are not part of a faith community.

Talking Faith is for anyone interested in exploring further what it means to have a vital Christian faith. There are no other prerequisites. Participants need not have any Bible knowledge before they begin. Incorporating Bible study, interactive activities, and discussion, Talking Faith examines eight questions of faith. During each class, participants sing and pray and share their faith with one another. In all classes, Jesus Christ and the Bible are central to the discussion. All topics are examined in light of Jesus' life, ministry, witness, death, and his resurrection, helping participants to see Jesus as the foundation from which all conversation about Christian faith begins.
Endorsements
"This study was developed with a rare wisdom and insight for helping progressive Christians learn to share our faith with others. Participants in the eight-week series came away with a clarity of faith, a deepened connection to each other, and a new confidence in talking about what they believe. I was tempted to leave out some parts of the study, but decided to trust the process: we were delighted and surprised, session after session, at the power and effectiveness of the experience for our congregation. Participants who were a bit wary of a two-and-a-half hour weekly group never missed a session and said it was the most significant study in their church life!"
—Rev. Dr. Jacquelyn L. Foster, Compton Heights Christian Church (Disciples of Christ), St. Louis, Missouri

"We used Talking Faith in this Episcopal parish. Much of the program was appropriate for us, and the program was infinitely flexible for the changes we needed to make. The Real World and Large Talk aspects were particularly well-received, and I see the tokens that we gave out appearing here and there still. All in all a worthwhile program for any denomination."
—The Reverend Sally Hague, Trinity Church, Claremont, New Hampshire

"Talking Faith is a powerful resource for Christians who hear the call to tell others about what God has done in their lives but feel such talk is difficult, inappropriate or dangerous. Talking Faith begins where participants are and moves them gently but steadily from discomfort toward confidence in themselves as people freed to say what they know. It's a life-changing and congregation-changing opportunity."
—Dennis Landon, President, Higher Education & Leadership Ministries, Christian Church (Disciples of Christ)