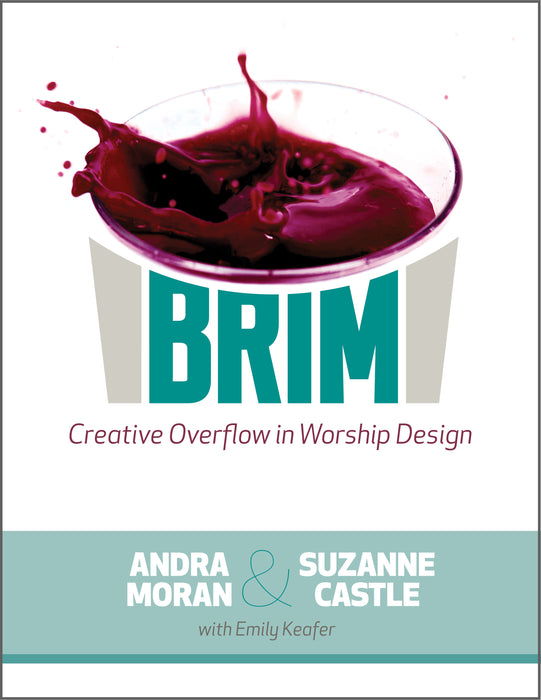 Brim: Creative Overflow in Worship Design
Interactive iBook now available from iBookstore

Worship Leader Magazine's 2013 Editor's Pick for Service Planners category

We all long for meaningful worship to connect us with God and with each other. If you crave creative worship options, if you seek music and art reflecting progressive theology, if you wish to offer prayer encounters with deep connections for your community, Brim: Creative Overflow in Worship Design is for you. Created by Christian musician Andra Moran and minister Suzanne Castle, Brim: Creative Overflow in Worship Design provides ten different worship services in formats that will jumpstart your creative engine. Each service contains leader devotionals, music, imagery, digital content, scripture selections, art resources, and prayer encounters. And once your creativity overflows the brim, there's no limit. Learn more by following @brimproject on Twitter.

Note: E-versions (available through your favorite e-reader vendor) are different from the interactive book available from Apple's iBook store. The interactive book includes audio, video, links, and other features. Choose wisely!


Endorsements
"Moran and Castle set out to gift leaders/churches with "a creative way to infuse art, technology, and multi-sensory experiences into worship." Mission accomplished. No one is left out of the wonderfully composed, richly imaginative guide to worshiping. The authors offer 10 themes, useable in different contexts as a single focused experience or series, each complete with a freshly concepted worship rollout including Scripture, prayers, readings, songlists, visual, sensory, and interactive ways to engage with God and each other, and a map for overall flow. The good news is that as you walk through and bring these pages to life in your community, Moran and Castle mentor you into an inspired approach to worship that is involving, revelatory, unique, community building, challenging, and transforming. A wealth of worship wisdom."
-Andrea Hunter, Worship Leader Magazine


"The choice of the word "Brim" in itself is fascinating. I remember in seminary studies where my friends tell me a core ministerial trait is to serve God not out of our limited abilities, but to serve God fully out of an overflow of HIS goodness, HIS ability, HIS resources, and HIS love. Brim is pointing to and accelerating my awareness of this. Great worship resource! Rating: 4.75 stars of 5."
-Conrad Yap, "Panorama of a Book Saint" website

"A new friend asked for a bibliography from me recently. "What did you read to help you figure out what to do in Galileo Church?" Great question. Here's the email I sent back, eventually.....[On the list is] Brim, by Andra Moran and Suzanne Castle, which describes and illustrates with concrete examples a way of worship that is beautiful and has integrity — not a show for an audience of bored people, not a break with tradition for the sake of novelty, but rather worship as an invitation to engagement with the Deity with our whole selves. Kind of an exercise in the practical implications of David Bentley Hart's The Beauty of the Infinite.
–Galileo Church Facebook post, 9/15/14

"The arts have always been worship's language of choice, but never more so than today in our 21st century. Brim is a perfect tool/guide/companion for leaders who want to 'talk' that language for their own worship and within that which they are structuring for others. It is, quite literally, a cordial companion, full of ideas and possibilities as well as of holy potential."
- Phyllis Tickle, author of Emergence Christianity and The Great Emergence

"Brim is a field guide for DIY worship-helping you make connections, gather ingredients, and leading you into worship's natural habitat: God's beautiful world! Andra and Suzanne are careful to make prayer, worship installations, liturgy, activism, and song accessible to all kinds of churches, whether you've been gathering in a sanctuary for a century or are starting to meet at a bar on Monday night."
- Troy Bronsink, author of Drawn In: A Creative Process for Artist, Activists, and Jesus

"With this thoughtful and beautiful book, Andra and Suzanne have assembled tools to advance important conversations in small group and community settings. This format immerses the participants in the topic in all manner of ways, including a refreshing approach to how music from all points of the spectrum can create a sacred space. Words become embodied conversations, and hearts are provoked to grow and change."
- Stephen Mason, Jars of Clay

"Brim is a treasure chest of practical resources...if your own creative well is dry, Brim will help you tap into the Source of Living Water once again."
- Rev. Bryan Sirchio, author of The 6 Marks of Progressive Christian Worship Music