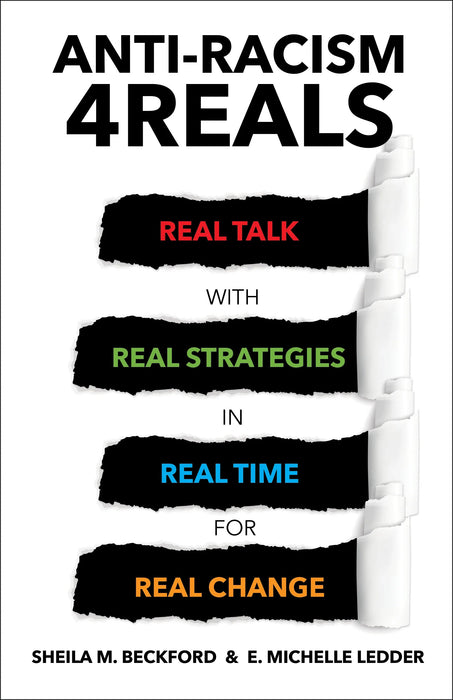 Anti-Racism 4REALS: Real Talk with Real Strategies in Real Time for Real Change
by Sheila M. Beckford and E. Michelle Ledder
Order here:  Amazon | Barnes & Noble | Books-a-Million | Bookshop.org | Cokesbury
Features 137 anti-racism practices and strategies to disrupt racism in real time.
How do you start today on the road to being anti-racist? As our country faces a long-overdue reckoning with racism and white supremacy, book studies, workshops, and discussions crowd the landscape.
But not all activities with the name "anti-racism" are actually anti-racist. In Anti-Racism 4REALS, anti-racism trainers Beckford and Ledder contend much of the current education leaves out action steps for dislodging racism in real time, and even worse, perpetuates racism, causing further harm to Black, Indigenous, Pacific-Islander, Asian, Latinx (BIPAL) people.
Using the concept of "racial positionality" as the entry point for engaging anti-racist work, this groundbreaking book offers concrete tools to confront racism and bring about REAL change in REAL time. Written by two ordained women—one Black Latina, one white—this straight-talk, practical workbook provides 137 ways to be truly anti-racist, including scripts and other practices for interrupting and dismantling racism. A forthcoming video discussion guide and Leaders Workbook will help facilitate small group discussion and ACTION-NOW Learning Engagements. 
Endorsements
"Anti-Racism 4REALS is an indispensable resource for equipping all who are serious about the work of dismantling racism. It provides a disciplined approach to generating meaningful engagement that will lead to transformative action. Rev. Beckford and Rev. Ledder bring a unique combination of skills and experience to this project. Readers of this excellent book will benefit immensely from their journey." —Rev. Dr. Richard Hayes, Pastor, Metropolitan Community United Methodist Church
"We don't need more talk about race: we need real talk about race. Sheila M. Beckford and E. Michelle Ledder have created a highly accessible resource to help you and your community move beyond polite words to real talk that makes a real difference. In this critical time of real danger and real opportunity, we need to get real."—Brian D. McLaren, author of Faith After Doubt
"Revs. Beckford and Ledder move the needle and raise the bar for those committed to the urgent work of anti-racism. In this candid, provocative, incisive book, we are pushed and prodded to transcend talk, neutrality, political correctness, and our need for more information about racism, and challenged to take up specific, real-time strategies that interrupt and dismantle racism, hold space for honest truth-telling, and lead to real action and real change. Anti-Racism 4Reals offers a practical blueprint for the future of anti-racism work."— Mark Feldmeir, pastor and author of A House Divided
"Anti-Racism 4REALS is an intense yet insightful read! Discovering how certain words and actions can unknowingly perpetrate racism and making a conscious decision to change them are essential components to building an anti-racist culture. This book helps you learn how to take the big and small steps needed to do this important work."—Leah Gunning Francis, author of Ferguson and Faith: Sparking Leadership and Awakening Community
"The authors of this book offer thought provoking ideas and commentary on the importance of race, diversity, and inclusion. In the 21st century, it is absolutely imperative and mission critical that we work to achieve equity, while engaging in bold, daring, courageous, and honest conversations regarding the issue of race and its debilitating impact on the promotion of human flourishing. Further, this book helps us to see that it takes diversity of all dimensions to create a truly global, transformational, and equitable society. The authors do an incredibly amazing job unpacking complicated concepts and teasing out the nuances—so that readers are provided with the tools they need to be effective agents of change in progressively addressing and dismantling the system of white domination and superiority in all spheres of the human endeavor."—Rev. Dr. Herron Keyon Gaston
Also by Sheila M. Beckford and E. Michelle Ledder