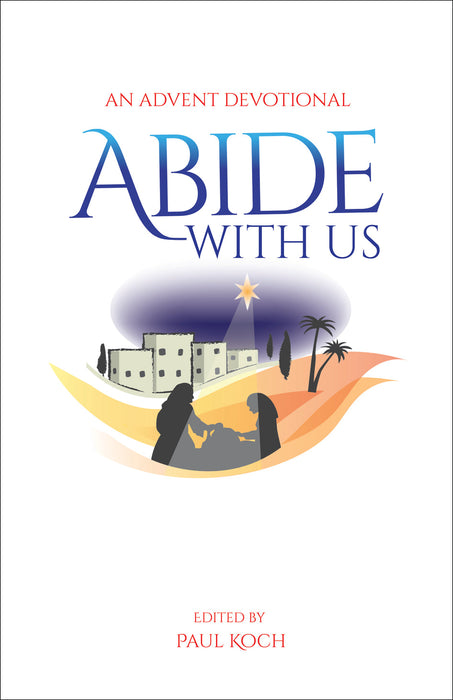 Abide With Us: An Advent Devotional — PDF
Purchase the SPECIAL EDITION PDF download, and you have the publisher's permission to print from 30 - 100 copies for your small group, class, or congregation.
PDF with Permission to print 30 copies $120.00
PDF with Permission to print 60 copies $240.00
PDF with Permission to print 100 copies $400.00

Select your Quantity from the quantity drop down box to the right.

Abide with Us is available as an e-Book from your favorite digital book platforms like Amazon Kindle, Nook, Apple Books, Kobo or wherever digital books are sold.
A daily devotional spanning the four weeks of Advent that helps us remember that our God is always with us every time, even in the most unlikely of places.
By Regional Ministers of the Christian Church (Disciples of Christ)
Edited by Paul Koch
The Christmas carol "O Little Town of Bethlehem closes the invitation "O come to us, abide with us, our God, Emmanuel" — the hope, prayer and ultimately the knowledge that God is with us in our quiet moments,  whether that's in the holy manger of Jesus' birth or the sacred moments amid a frenetic season that calls us to do just about anything other than abide with our God. Abide With Us is a daily devotional walks us through the four weeks that lead to Christmas, reflecting on what we can do to create a welcoming space for God in our hearts and our world. Each devotion contains scripture, a short reflection, and a prayer.
Abide with Us is written by the regional ministers of the  The Christian Church (Disciples of Christ) in the United States and Canada. The Disciples' 31 regions are intricately involved in congregational vitality, new church starts, key ministry operations, and outreach and mission activities. Regional ministers are the faces of these ministries and represent the diversity of the denomination.