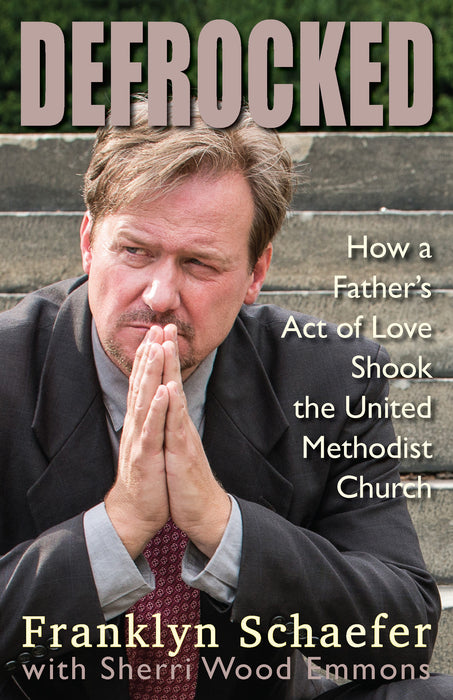 Defrocked: How a Father's Act of Love Shook the United Methodist Church
Foreshadowing the schism currently ripping the United Methodist Church in two, Defrocked tells the story of Rev. Franklyn Schaefer, a 20-year pastor stripped of his ordination by a United Methodist court six years after he officiated at his son's same-sex marriage. Schaefer's appeal restored his standing in 2014, but he remains a vocal advocate for LGBT equality and reform in the church.
Schaefer's story, among many, many others, has led to deep examination of United Methodist doctrine and identity, with polarizing results — more than 6,600 congregations, including more than 5,000 in the United States, have left United Methodist Church for a variety of reasons. Defrocked shines a light on the policies, traditions, and beliefs at the heart of the split.


NEW! Free Defrocked Discussion Guide!

Cover photo by Kim Kunda
Endorsements
"Parts of the book read more like testimony, giving specific events, names, and actions taken, like the defense case Schaefer would have presented during the trial. The book was a chance for Schaefer to tell his personal story, especially for most people who came to know the saga only after the verdict." –Cassandra Lawrence, New York Journal of Books
"Be warned. Defrocked is a painful, close-up look at the United Methodist Church struggling to end its not-so-civil war against homosexuality and homosexuals. However, also be warned that if you don't read Defrocked you will miss a rare and deeply moving opportunity to watch a truly Christian family stand united against scientific ignorance and biblical misuse and never stop loving God, their Church, their family and even their enemies. –The Rev. Dr. Mel White, Co-Founder SOULFORCE and author, Stranger at the Gate: to be Gay and Christian in America and Holy Terror: Lies the Christian Right Tells to Deny Gay Equality.

"Schaefer's conviction to compassionately balance his conscience with family, LGBT social justice, and religious practice was admirable. Where many talk about the need for change inside our religious institutions, Schaefer took personal responsibility to live out his principles at great cost. Though defrocked, Schaefer's action honors the Gospel one hopes Christ's inspiration encourages us all to follow. That we would turn toward our neighbor in love rather than against and let love be the law that binds us all."
–Jennifer Knapp, singer/songwriter

"In Reverend Frank Schaefer's book Defrocked we meet a humble minister who, in calmer times, would have quietly lived out his faith in small town Lebanon, Pennsylvania, attending to the needs of his flock. These, however, are not those times – faced with a gay son who asked him to preside at his wedding, Frank took a road that is still, in the Christian church of 2014, less traveled. Whether it is apparent or not, every church in America today that continues to view LGBT as equal but also separate is filled with division and inner tension: Reverend Schaefer's book gives an inside view to this conflict and how it will continue to play out for many years to come. Reverend Schaefer shows the way forward in this story with his simple, steady commitment to follow 'in His steps' to the best of his ability, each and every day."
— Randy Roberts Potts, freelance writer, photographer, and out gay grandson of Oral Roberts

"As more and more people in mainstream American support the rights of gay, lesbian, bisexual and transgendered people, its easy to forget the heroes who stood up, spoke out and paid a price to bring us to this point. Rev. Frank Schaefer and his family faced an unjust choice: affirm their son's commitment to the man he loved or affirm their commitment to the United Methodist Church they loved. Frank's unquestionable commitment to his faith and his courage to stand against unjust polices makes him a prophetic leader of our age. Read about his remarkable journey – and find your own prophetic voice along the way." –The Rev. Cameron Trimble, Executive Director and CEO, The Center for Progressive Renewal

"If the heart of the gospel is unconditional love, then why do we punished those who actually practice it? Our faith was born of resistance to loveless legalism, and Frank Schaefer's loving act of resistance is the essence of faith itself. Would that more fathers loved their sons this much. It might just save the church." –Robin Meyers, Senior Minister, Mayflower Congregational UCC Church, Oklahoma City, Distinguished Professor of Social Justice at Oklahoma City University, and author of The Underground Church: Reclaiming the Subversive Way of Jesus.

"Confronting our traditional beliefs about faith as it intersects sexual orientation and gender identity is a difficult process. Imagine if you are the pastor and your gay child comes to you, and, beyond loving and accepting them, requests that you perform their wedding. You are then pushed, to the edges, to speak out from your silent place against the injustice. Pastor Frank Schaefer found himself in that place." – Kathy Baldock, Executive Director, CanyonwalkerConnections.com