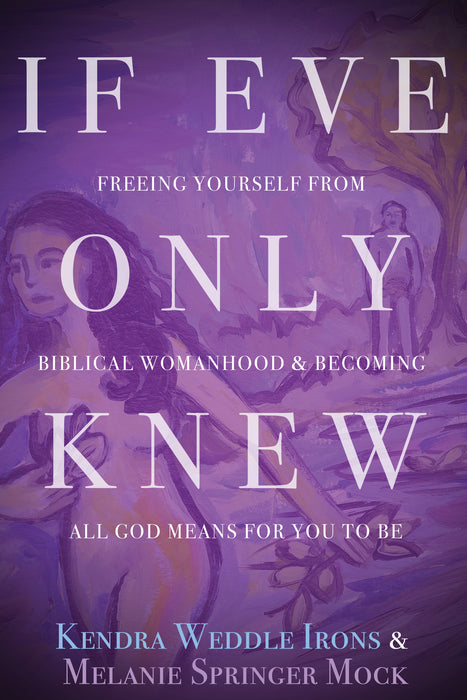 If Eve Only Knew: Freeing Yourself from Biblical Womanhood and Becoming All God Means for You to Be
How do you convey a belief in Jesus that differs from the traditional, judgmental view prevalent among some Christians that encourage submission, silence, and domestic roles, resulting in women having lower confidence and self-competence.
If Eve Only Knew supports a nuanced interpretation of the Bible, emphasizing the importance of understanding it within its social, historical, and cultural context. Authors Kendra and Melanie assert the Bible offers freedom to explore individual gifts and does not demand strict gender roles. These liberating views are often overshadowed by the more widespread message of ordained gender roles.
If Eve Only Knew offers an alternative, more complex interpretation of the Bible. It encourages critical thinking about the messages in evangelical popular culture, challenging these messages and providing readers with a fresh perspective on the Bible, Jesus, faith, vocation, and self. Ultimately, this fresh take on the Bible, Christianity, and faith empowers women — and men — to embrace their unique qualities and reflect God's image fully.

Recommended Reading by WATER (Women's Alliance for Theology, Ethics, and Ritual)
Endorsements
"If we ever question the great need for our work as Christian feminists, this book will re-energize and inspire us. In If Eve Only Knew, Dr. Kendra Weddle Irons and Dr. Melanie Springer Mock deconstruct evangelical popular culture's messages that girls and women, as descendants of Eve, are sinful, weak, deceitful, and inferior, and that our hope is through being pure, passive, 'pink' princesses who find the right man to marry and to please through serving him and his children. At the same time, Kendra and Melanie construct positive messages with convincing biblical support, empowering us to be all we're created to be in the divine image. Countering the belief of many people that we live in a post-sexist world where feminism is no longer needed, Melanie and Kendra demonstrate through vivid examples and compelling stories that patriarchy is still all too prevalent and that indoctrination into gender inequality continues on a wide scale. Their voices ring with authenticity because they witness firsthand the destructive effects of this indoctrination on the college students they teach. All Christians and other justice-loving people should know and care about the distorted biblical messages on gender that come from evangelical popular culture because they remain a pervasive force in our society. Also, I'm delighted to recommend this book because it includes insightful biblical interpretations that free us to become all we're meant to be in God's own image. .... If Eve Only Knew: Freeing Yourself from Biblical Womanhood and Becoming All God Means for You to Be is a must-read for everyone who wants to contribute to changing church and society so that all people have freedom to flourish in the divine image." ― Jann Aldredge-Clanton, Copyright 2015 by Christian Feminism Today (www.eewc.com). Reprinted by permission. Read the entire review at Christian Feminism Today

"Taking a necessary step for the Evangelical Christian community, Kendra Weddle Irons and Melanie Springer Mock discuss the oppressive, damaging messages sent to both women and men by the church's biblical interpretations. This contemporary, relevant critique of traditional evangelical views commits to dismantling themes of silence, submission, and purity directed towards women of the church."―WATER (Women's Alliance for Theology, Ethics, and Ritual) Reading Recommendations, May 2016
"As a female pastor and gender equality advocate, I know so many evangelical women who are in shackles, stuck with messages that have been taught to them over many years of faithful church attendance. They long for freedom. They long to lead. They long to shed the voices in their head that taunt them with 'But the Bible says…' or 'God's design for women is…' If Eve Only Knew is a thoughtful and inspiring book that shatters the false messages that many Christians have bought into about particular roles for women. It challenges both men and women theologically and practically and is an excellent tool to give permission for women to be all that God created them to be. It's filled with real stories, fresh looks at scriptures, and practical challenges, and I hope this material gets in all the right hands." ―Kathy Escobar, Co-Pastor of The Refuge and author of Faith Shift: Finding Your Way Forward When Everything You Believe is Coming Apart

"In If Eve Only Knew, Melanie Springer Mock and Kendra Weddle Irons give us all a great gift by helping us see our faith tradition with new eyes and, along with it, our place within that story. They provide we who claim Christ a better lens by which to penetrate decades, sometime centuries of unhealthy, unhelpful teaching on gender and into the true richness of our shared humanity as those made in God's image." —John Pavlovitz, Pastor, Blogger, Founder of The Table online community

"Whether you are new to egalitarian readings of the Bible that set women free, or whether you are a long-time Christian feminist who is unaware of the hugely popular attempts to keep women in their subordinate roles, If Eve Only Knew will supply you with hundreds of fresh insights. Like the Gospel's Canaanite woman who convinced Jesus that he needed to expand his mission, Kendra Irons and Melanie Mock present expansive challenges to contemporary Christianity. Don't miss the excitement!" ―Dr. Virginia Mollenkott, Professor Emeritus, William Paterson University; author of Sensuous Spirituality: Out from Fundamentalism and other books.

"Men and women ill at ease with complementarian models of family and church life should welcome this book. By analyzing popular evangelical messages and offering faithful ways to interpret scripture through an egalitarian lens, the authors provide a way forward—a way of faith, freedom, and fulfillment that refuses to silence half the church. Given the strong emotions that often characterize debates on this issue, I especially appreciated the book's sound scholarship and judicious tone." ―Gary L. Tandy, George Fox University

"This new book by Irons and Mock tackles the Biblical and contemporary aspects of Evangelicalism and other conservative strands of Christianity which denigrate and subordinate women. Not only do they succeed in showing that the Bible often does not say what conservatives claim, but they also show that their notions of modesty and purity originated much more recently than in Biblical times. The toxic effects of these allegedly Biblical views, which are used to silence and control others, is exposed. The message of If Eve Only Knew needs to be heard far and wide, for the sake of not only women but people of all genders who are being misled by harmful teachings masquerading as Biblical truth. The information in this book probably won't bring an end to patriarchy and oppression, but it should at least make more people aware that those who justify their view of male superiority as simply 'what the Bible says' are in fact ignoring and distorting the Bible left, right, and center." ―James McGrath, Clarence L. Goodwin Chair in New Testament Language and Literature, Butler University