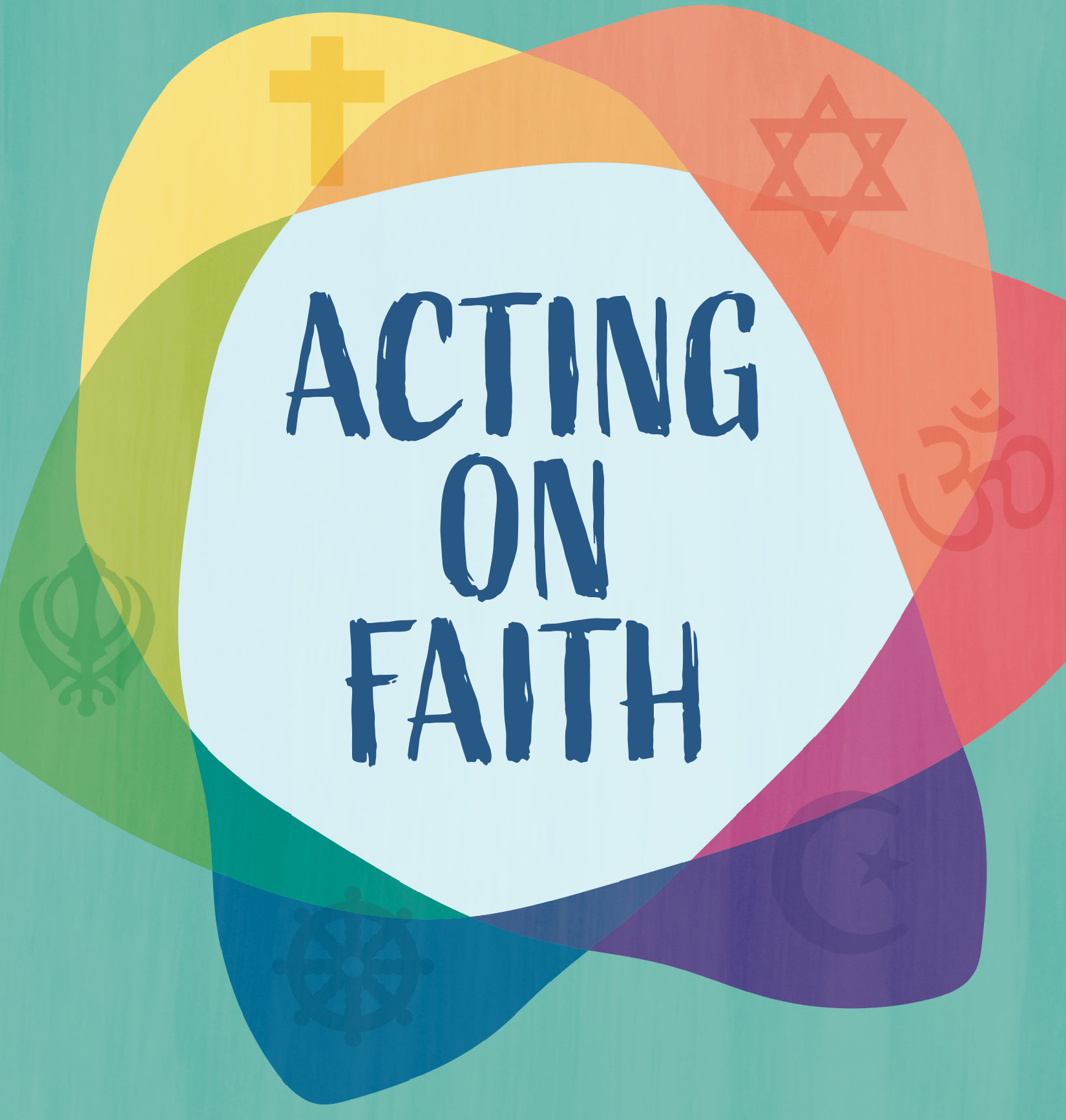 Acting on Faith: A Q&A with Diane Faires Beadle and Jamie Lynn Haskins
The editors of a new book on interfaith justice stories, Acting on Faith: Stories of Courage, Activism, and Hope, share what inspired this project, the common thread running through all of the book's 30 stories, and one thing we all can do to foster religious tolerance in these divisive times.

Chalice Press:  What inspired you to write Acting on Faith?

Diane: I remember the moment I first heard that three Muslim young people had been tragically killed at their apartment in Chapel Hill, NC. It hit close to home because I live in Raleigh, NC, and had worked on organizing the first Habitat for Humanity Interfaith Build there with the brother of the young man who died in that incident. I felt compelled to respond, to do something that could help prevent terrible acts like that from happening. We often feel so helpless in the face of such acts of violence and hatred. Especially as I learned more about how compassionate those three young people were, and what a positive impact they tried to make with their lives, I felt inspired to honor their legacy by creating something that would bring about greater understanding. Hearing their story moved me, so I began to think about how hearing one another's stories could be a powerful tool for breaking down the barriers between religions.
At the same time, Jamie and I had been talking about finding a project to work on together. We've been dear friends since we met in Divinity School, where we bonded while organizing a living wage campaign. Since graduation, we have lived in different states, but we have remained close and been part of each other's ordination services, weddings, and other meaningful moments.  I've always been inspired by Jamie's compassion and her passionate advocacy for others.
Jamie Lynn: Working as a college chaplain on a diverse campus brings me into relationship with students from a multitude of faith traditions everyday. I am consistently in awe of these students and their shared passion for justice and the commitment to make our world a better place.  While the news sometimes focuses on religious conflict and violence, each day I get to see Muslim students working alongside Jewish students, Atheists partnering on projects with Buddhists, and it is a privilege. I wanted to share that experience with our readers.
How did you find the stories in the book?
Diane: It was definitely a challenge to find a diverse range of voices willing to share their stories. We reached out to all of our personal and professional networks, and  everyone we knew to help connect us with people who had compelling stories. We wanted to be sure the stories reflected many different religions, genders, races, ages, and experiences. Some came from people we knew, and others were submitted by people across the country (and world!) that we have never met, who heard about the project through mutual friends. My friend Jill knew we were looking for more stories, and happened to get into an interesting conversation with the person next to her on an airplane, whose story ended up in the book!
Jamie Lynn: It was also exciting to draw upon the rich life experience of my students. We often underestimate the wisdom of young adults and it was a gift to be able to share their experiences with the world.
What surprised you while working on Acting on Faith?
Diane: I was surprised to find that I had to confront some of my own subconscious biases while working on this book. I feel like I am very open-minded and accepting of people who are different from me. And yet, as we were gathering stories for the book, and reaching out to people from across religious traditions, at first I was reluctant to include stories from the Pagan tradition. I realized that I needed to hear the stories of Pagans and understand their experiences, for the same reasons that I hope people will read all of these stories and become more empathetic and informed about people whose beliefs are a mystery to me. I was surprised to realize that I need this book as much as anyone else to expand my understanding!
Jamie Lynn: I was surprised by the basic fact that that we really are more alike than we are different. At times our world can feel so divided along political and religious lines but, at the end of the day, so many of us just want to create a more just and loving world. 
What's one of your favorite stories from the book?
Diane: It's so hard to choose just one! I think Khaled Khalili's story of the hospitality he witnessed growing up in a refugee camp is powerful, because it flips our ideas about who offers welcome and who receives it. Maya Wahrman's story, also in the chapter on Immigration & Refugees, is powerfully told as a letter to a young man in detention, because she paints such a vivid picture of the meaningful connection they developed during their visits. In the chapter on Sexuality & Gender Identity, I really like Miri Mogilevsky's fresh interpretation of the story of Esther, and Marquis Hairston's application of the Pentecost story to his call to work for justice. I think my favorite changes every time I re-read them!
Jamie Lynn: Like Diane, I struggle to pick just one! So many of these stories moved and inspired me. Fathimath Shafa's experience of growing up in the Maldives, a country and culture so dramatically impacted by climate change, forever changed the way I understand the call upon us as people of faith to be a part of the solution rather than the problem.
Are there any common themes running throughout the stories?
Diane: I see themes of persistence and resilience woven through many of the stories, as people struggled to connect what their religion had taught them with their lived experience in the world, and yet refused to give up on practicing the faith that had shaped them. I also think there's a common thread of believing that we are all worthy of being loved and accepted for who we are, even when some voices have told us otherwise. 
Jamie Lynn: On each page of this book there is this shared focus on justice, compassion, and our call to make the world a more equitable and just place as people of faith. There is the common desire to offer love in places of hate, peace in places of violence and unrest. I cannot help but feel inspired as I flip through these pieces.
What do you hope people take away from this collection of stories?
Diane: I hope that people finish this book inspired to listen to the stories of people around them with experiences different from their own, and longing to connect in person with their neighbors across religious difference. I also hope that whether readers are experienced justice-seekers or new to advocacy, that they will finish the book more hopeful and energized to speak up and make a difference in their own communities on issues they are passionate about.
Jamie Lynn: It can be easy to lose hope in our current political climate. My dream is that these stories will provide folks with a sense that there is still so much to be hopeful about. As poet Denisve Leverov writes, "we have only begun to know the power that is in us if we would join our solitudes in the communion of struggle...so much is in bud." I truly believe that the more we share our struggles, our visions, and our convictions, the more power we have to change our world. I hope this book adds to that power and our ability to make a difference.
What are you reading now – for work, for fun, for personal growth?
Diane: Like many people, I have lots of books underway at the same time. For fun, I am finally getting around to reading All the Light We Cannot See by Anthony Doerr, which has such beautiful writing and characters and is about a tragic time of violence and hatred in our history. I recently finished Silas House's Southernmost, another great story of learning to love across our differences. I've started on Eboo Patel's Out of Many Faiths, which is a great companion to Acting on Faith. For work, I'm focused on books about visioning and learning how to lead the church in a time of transition and uncertainty: How to Lead When You Don't Know Where You're Going by Susan Beaumont; Canoeing the Mountains by Tod Bolsinger; Another Way by Stephen Lewis, Matthew Wesley Williams & Dori Grinenko Baker; and Piloting Church by Cameron Trimble. For my spiritual growth, I'm praying my way through the beautiful Earth Gospel by Sam Hamilton-Poore. 
Jamie Lynn: There are quite a few books on my bedside table right now as I look ahead to a likely few weeks quarantined at home. For fun I'm currently rereading Meg Wolitzer's The Female Persuasion. Wolitzer is one of my favorite fiction writers and I find her work soothing in moments of tension and uncertainty. I always try to work my way through at least one new book of poetry a month. Lately, I have been incredibly moved by the work of Danez Smith. Their new collection of poetry, Homies, is powerful. During Lent I have also been making my way through Ash and Starlight: Prayers for the Chaos and Grace of Daily Life by Arianne Braithwaite Lehn.
What are you most passionate about right now?
Diane: My heart continues to break every time I hear about another instance of violence against a religious community. I am passionate about addressing the rising Islamophobia and Antisemitism we are seeing now, and bringing people together to foster better understanding. I'm also convinced that we can find better ways to handle those who want to immigrate to the U.S., and create a more compassionate and just system to process asylum seekers.
Jamie Lynn: Like Diane, I am fiercely passionate about addressing the rise of antisemitism and islamophobia in our world today. Each day I am lucky enough to do ministry alongside folks of both the Jewish and Isalmic faiths and I can see the way this increase in violence and anxiety impacts them and the people they love and serve.
What's one thing we can do, each of us, to help create or foster more religious tolerance in our communities?
Diane: Work on something together! Get together with another religious community in your area, decide on one local need you can meet, and partner on meeting that need. That could be anything from cleaning up a local park together, doing a joint Habitat for Humanity work day, hosting a fundraiser for your local foodbank, even watching a documentary on a justice issue and brainstorming next steps together. There are so many possibilities! Working on a meaningful project together is a great way to get to know your neighbors, and to show the wider community that religious groups have something meaningful to contribute.
Jamie Lynn: I wish individuals really knew how easy it is to make a difference: share a conversation with someone who believes differently than you; make coffee plans with someone of a different faith; share a bit of your story with someone you've just connected with. Once you make a connection with a friend of a different tradition, build on it! Serve together, visit one another's house of worship, create a book club or a regular coffee meet-up. There is so much we can do if we simply open ourselves up to connection!
Is there a question we haven't asked you'd like to answer? 
Diane: It took us over four years to make this book a reality, from the time we first got the idea, to when we finally held the finished copy in our hands! During that time both Jamie and I went through lots of major life changes, including a move across the country, a marriage, job changes, and even adopting a giant, adorable Bernadoodle puppy. If you have an idea that you believe in and think is meaningful, be patient and persistent, and don't give up!
For more on Acting on Faith: Stories of Courage, Activism, and Hope, visit here.
Diane Faires Beadle loves bringing people of various cultures and faiths together. She helps plan Habitat for Humanity of Wake County's annual Interfaith Build. Diane was raised in the Christian Church (Disciples of Christ) and serves as Senior Minister at St. Paul's Christian Church in Raleigh, North Carolina. A graduate of Vanderbilt Divinity School and Rhodes College, Diane was born in Texas, grew up in Germany, and considers Tennessee home. She also has a great love for Sri Lanka, where she spent two years teaching English. She and her husband Michael enjoy hiking, running, cooking spicy foods, and traveling the world.
Jamie Lynn Haskins delights in people and their stories, particularly those shared across faith traditions. She serves on the board of the Virginia Interfaith Center for Public Policy. Jamie Lynn is ordained in the Christian Church (Disciples of Christ) and serves as Chaplain for Spiritual Life at the University of Richmond. Before moving to Richmond, Jamie Lynn served as Chaplain, Director of the Center for Faith & Service, and Instructor at Westminster College in Fulton, Missouri, and is proud to share the stories of several Westminster students here in this book. She is a member of Seventh Street Christian Church (Disciples of Christ) and enjoys camping, cooking, and exploring her new hometown of Richmond, Virginia, with her trusty pup Bernie.