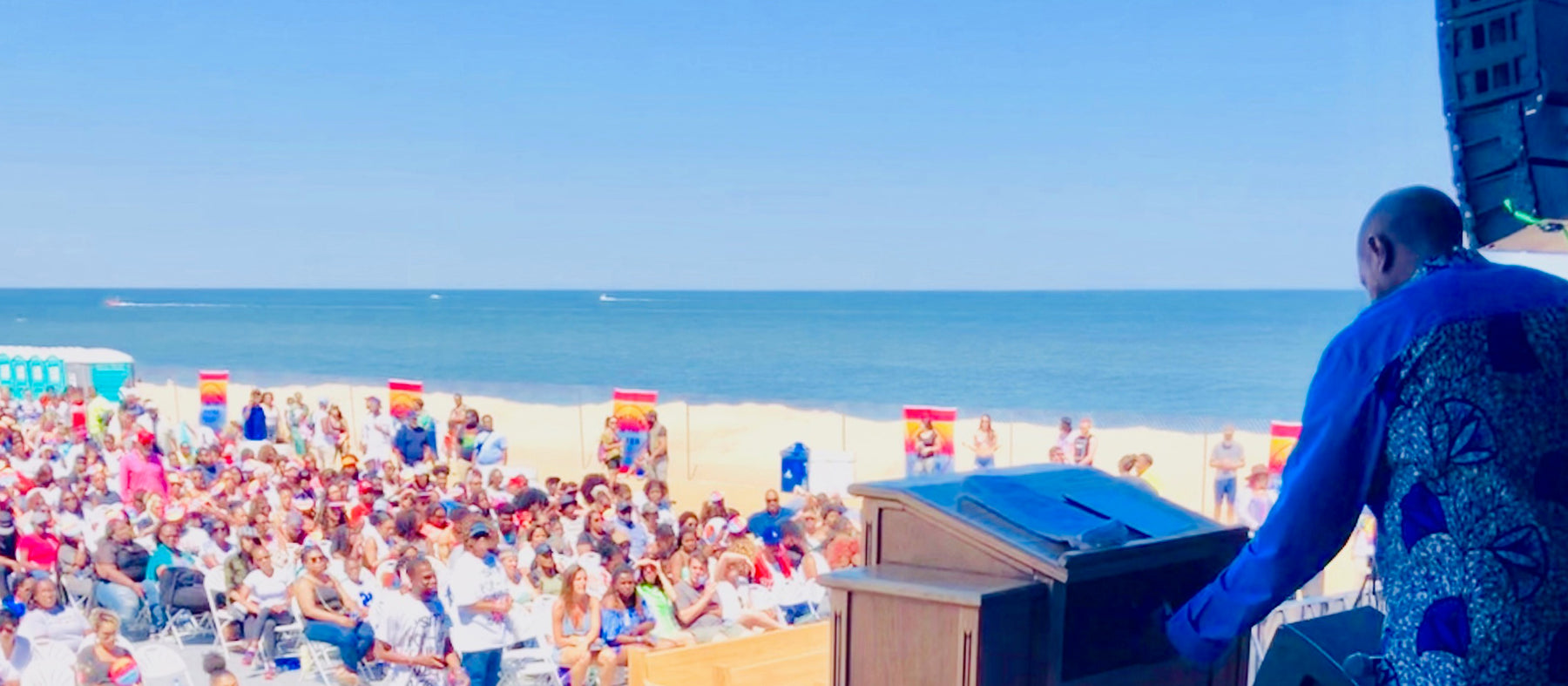 Why We're Publishing "Something in the Water"
Rev. Dr. Michael Waters is always up to something, always causing – as civil rights icon John Lewis famously said – "good trouble."
Serving as Congress's Chaplain of the Day. Speaking at a beachside revival organized by Pharrell Williams. Imploring the Dallas City Council to tear down Confederate monuments. Traveling to El Paso to mourn the Walmart shooting victims. And writing, writing, writing. I follow Waters on social media, and he's always doing something to inspire, to challenge, to keep changing the world.
Something in the Water: A 21st Civil Rights Odyssey is available now from Chalice Press. Poetry and prayers, laments and liturgies, prophetic proclamations and his public petitions are compiled into a work that takes us to the historic sites of the Civil Rights Movement: where Emmett Till's body was pulled from the Tallahatchie River; the hallowed chamber of the U.S. House of Representatives; the Sixteenth Street Baptist Church in Birmingham, Alabama, site of a horrific bombing in 1963; and the Something in the Water event in Virginia Beach, not far from where slavery first reached American soil.
Waters also takes us to academic lecture halls, where he is a frequent speaker and preacher, and to political city halls, especially in his current hometown of Dallas. He holds up a mirror to America's ninth-largest city, particularly regarding poverty in Black neighborhoods and for police violence against the Black community. Waters spoke internationally in the wake of the murder of Botham Jean and the subsequent conviction of Amber Guyger, the Dallas police officer who shot him. Dallas may be Waters' case study, but his calls for justice will translate to any American city and force us to evaluate how our own elected officials are or are not working for the common good.
Waters brings a pastor's heart, a scholar's mind, and an activist's fire to the work. Every page has the potential to elicit an Amen! from the reader.
I'm lucky to know Michael as a husband and a father as well as an author. I've been blessed to see him preach at the Wild Goose Festival, where his booming baritone calls for justice, for acknowledgment of America's sins, for America to change our ways echoes off the Appalachian trees. During the pandemic, I've seen him preach from the viral shelter of his home. And during our conversations about his work and his ministry and his family, I've seen a thoughtful, tender heart considering how he will change the world today for his children. It's a poignant reminder that we can be iron-tough when demanding change but feather-soft with those we love; it's not an either-or.
If you are happy with the world right now, you shouldn't read Something in the Water (or, for that matter, nearly anything from Chalice Press, but especially not this book). But if you are looking for inspiration to reengage with our country's political and social forces in a way that leads to productive conversation and change, reading Something in the Water needs to be your next step in that journey.
Gratefully,
Brad Lyons
Chalice Press President and Publisher
(TOP PHOTO: Michael Waters speaks to the audience at the Something in the Water Festival, April 2019)