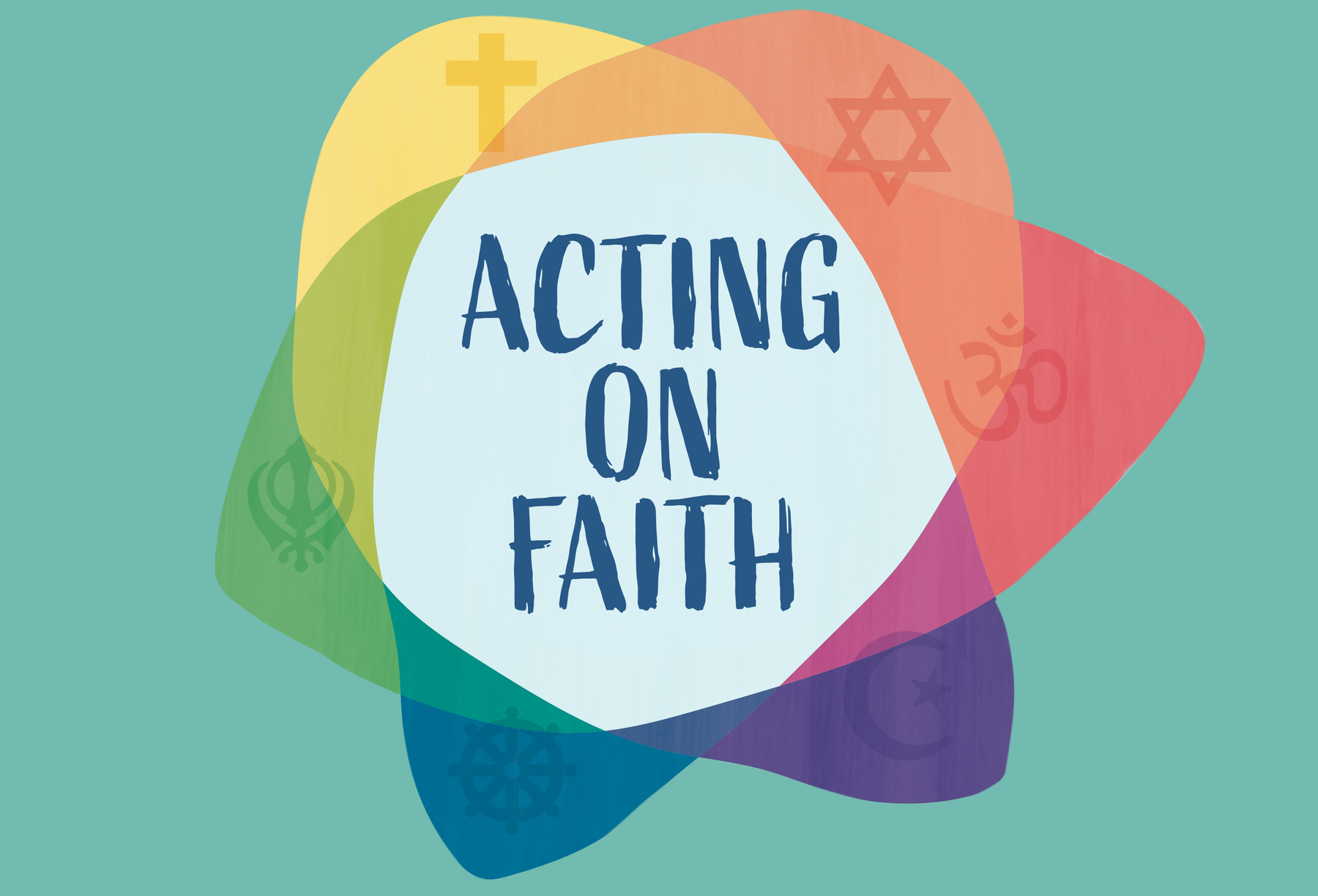 Why we're publishing 'Acting on Faith'
Considering how religious differences have been weaponized in American history, but especially since 9/11, the gulf between different religions seems wider than ever.

The editors of Acting on Faith disagree. "Although religion gets a lot of negative attention these days for inspiring hatred, violence, and division," Diane Faires Beadle writes, "in my experience religion moves many more ordinary people to acts of love, generosity, and selflessness every day." This compassion-packed message of hope, peace, and interfaith dialogue is at the core of Acting on Faith: Stories of Courage, Activism, and Hope across Religions, available now from ChalicePress.com and anywhere you buy books.
Diane Faires Beadle and Jamie Lynn Haskins have lovingly crafted a book demonstrating that regardless of what faith we profess, the way we demonstrate that faith shares many common elements.
Jamie and Diane are both Disciples ministers, friends from seminary, and lovers of interfaith dialogue. Together they collected stories from 32 authors representing eight faith traditions –  Christianity, Judaism, Islam, Buddhism, Hinduism, Sikh, Bahá'í, and Pagan– clustered around six social justice issues. Acting on Faith addresses environmentalism, race and privilege, immigration and refugees, sexuality and gender identity, gender and women's leadership, and interfaith conflict and extremism. It's easy to see the rich source material Diane and Jamie had to work with.
"This book," Jamie and Diane write, "is a celebration of the many faiths that call us to reach out, speak up, lend a hand, and appreciate the beauty of humanity. It's not the story of 'us' versus 'them.' Rather, it looks at the heart of the world's religious traditions; it examines the core of who we are as people of faith through our stories; and it seeks to build bridges across many divides. This book celebrates our differences and explores the countless ways we are connected, as all of us strive to stand up for justice, to side with the oppressed, and to tell the stories of our faith. As you get a glimpse into the experiences of your diverse neighbors working for justice, we hope you will gain deeper insights into how your own faith motivates you to respond to the challenging questions of modern life."
Interfaith dialogue and interfaith understanding seem like daunting tasks; scholars and amateurs alike have devoted their lives to learning more about other faiths. Acting on Faith will be a long-standing contribution to that dialogue.
"I LOVE this book," said Eboo Patel, founder and president of the Interfaith Youth Core. "It has wisdom from different traditions, friendship across faiths, learning through engaging diversity, stories of vision turned into concrete action, and so much more. It brought me back to the core idea behind Interfaith Youth Core – all traditions call on us to serve others, and there is no greater joy or more important task than to do so together." 
For all of our 109 years, Chalice Press has been, primarily, a publisher of resources for a sliver of Christians. But we are more than that.
Our roots in the Christian Church (Disciples of Christ) give us an appreciation of the  many variations of faith, not just Christianity but the larger interfaith world. Where others see certainty in scriptures, we see subtleties. Where others condemn and alienate, we inquire and associate. Where others see threats to their beliefs and ways of life, we see opportunities to strengthen our own faith and make the world a kinder place. We work to create dialogue, understanding, and leadership in many venues, including the delicate interfaith spaces.
This is why we are open and affirming to all who wish to know more about God, Christianity, and their own faith, no exclusions. This is why we reach beyond our original Disciples audience into the larger world, spreading that message of God's love for every human, no matter how we're different.
This is why we're publishing Acting on Faith: Stories of Courage, Activism, and Hope across Religions. May it be a gift of grace and understanding for us all.