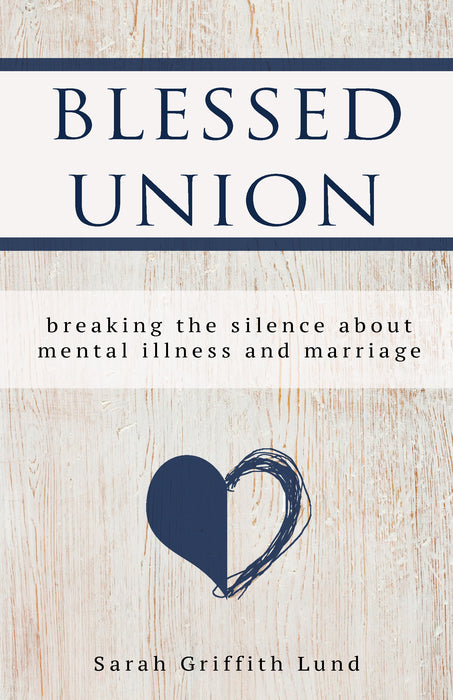 Blessed Union: Breaking the Silence about Mental Illness and Marriage
Also available at: Bookshop | Amazon | Barnes & Noble | Books-A-Million 
"A must-read book for clergy, pre-marital counselors, married folk, those of us who know we live with mental health challenges and those of us who don't."–Monica A. Coleman, author, Bipolar Faith
Mental illness affects at least a quarter of all marriages. Now, from the author of Blessed are the Crazy: Breaking the Silence about Mental Illness, Family, and Church, comes a deeply personal, honest, and hopeful new book to show how marriages can thrive despite mental illness. 
In Blessed Union, pastor and acclaimed mental health and disabilities advocate Sarah Griffith Lund weaves personal stories with spiritual reflection, education, relationship tips, prayers, and expert advice. A groundbreaking book exploring marriage, mental illness, and faith, Blessed Union delivers a powerful and healing resource for couples and those who journey with them.
Rev. Lund opens up about her own journey with depression and post-traumatic stress disorder in her marriage and shares the stories of other couples affected by mental illnesses such as addiction, anxiety, bipolar disorder, eating disorders, obsessive compulsive disorder, postpartum depression, schizophrenia, and more, to help break the silence on this taboo topic.
Also included in this practical resource are guided journal pages as well a list of resources for further reading and response. Above all, Blessed Union reminds us that God's big love for us never ends and that marriages with mental illness can be whole, life-giving, and blessed.
SMALL GROUP SPECIAL:  Buy 10 or more books at the bulk rate and Sarah Griffith Lund will lead a 1-hour Zoom discussion with your group! Email marketing@chalicepress.com for more details and to schedule.
Read the blogpost: Sharing Our Stories Heals Us: Reading Blessed Union with a Group
BOOK TRAILER
Endorsements
"Sarah Lund's new book reminds us of the importance of having someone in our corner when we have a mental illness…or being that partner when we love someone dearly who is dealing with their own mental health issues. Blessed Union is a book that begins with the challenges and ends with hope."–Doug Beach, National Alliance of Mental Illness (NAMI) FaithNet
"Sarah Lund's groundbreaking book on mental illness and marriage, written with deep wisdom, remarkable clarity, and the most beautiful vulnerability, boldly bears witness to the all too often silenced and shame-inducing experiences of marriages impacted by mental illness in ways that are radically restorative."–Christina Davis, Clinical Assistant Professor of Pastoral Theology and Marriage and Family Therapy, Christian Theological Seminary
"With the help of brave couples willing to share their stories, Sarah Lund shows us that justice and love, mental illness and relational wellness can all live together under one roof. This book is a vital contribution to the growing conversation about faithful living in the midst of mental health challenges."–David Finnegan-Hosey, author, Christ on the Psych Ward and Grace is a Pre-Existing Condition: Faith, Systems, and Mental Healthcare
"Through stories and honest theological reflection Sarah offers us a revised practical theology of love and marriage that will help all of us to love more fully even in the midst of the most difficult of circumstances."–John Swinton, Professor in Practical Theology and Pastoral Care, University of Aberdeen, Scotland
"Interweaving scripture, personal stories, and education, Blessed Union offers an honest, nuanced look into the realities of mental illness and their effects on intimate partnerships. Organized with reflection questions, specific diagnostic criteria, and tips for self-care, Blessed Union is a useful guide for individuals and support-groups, as well as a resource for training pastoral care teams on mental illness and its effects."–Sonia Waters, Associate Professor of Pastoral Theology, Princeton Theological Seminary
"This one-of-a-kind book invites the reader into the most intimate relationship—marriage, and the most challenging illness—mental illness. In these pages Sarah offers hope and help to couples with mental health challenges, reminding all of us that God's love never ends."–Hollie M. Holt-Woehl, Adjunct Professor, Luther Seminary 

"With honesty, vulnerability and storytelling, Blessed Union proclaims that absolutely nothing, not even mental illness and its impact on marital relationships, can ever separate us from God and God's unconditional love. The prayers and invitations to journaling encourage spiritual practice and theological reflection on mental health, marriage and God's presence in the midst of it all."–Adam Hanley, Program Coordinator for Ministry Personnel Vitality, the United Church of Canada
"Through the intimate stories of couples living with various forms of mental illness in their marriage, Lund helps to break the stigma around this urgent issue. Blessed Union invites us to come alongside people living with mental health challenges and to find hope in supportive community."–Leah Gunning Francis, Vice President for Academic Affairs and Dean of the Faculty at Christian Theological Seminary, and author, Ferguson and Faith
"Blessed Union is comprehensive, weaving together spiritual insights, psychological understandings, wisdom of good marriage therapists, biblical supports, and a welcomed internal exploration to be real in our own marriages.  This book is a blessing to live into and thereby be blessed.–Alan Johnson, former chair of the board of directors of the UCC Mental Health Network and founder of the Interfaith Network on Mental Illness
"As a pastor who constantly longs to offer resources to people searching for help, I am so grateful for this gift that I can share with couples who desire to strengthen their marriages. Lund's message is needed now more than ever."–Mark P. Briley, Lead Minister, Broadway Christian Church (Disciples of Christ), Columbia, Missouri