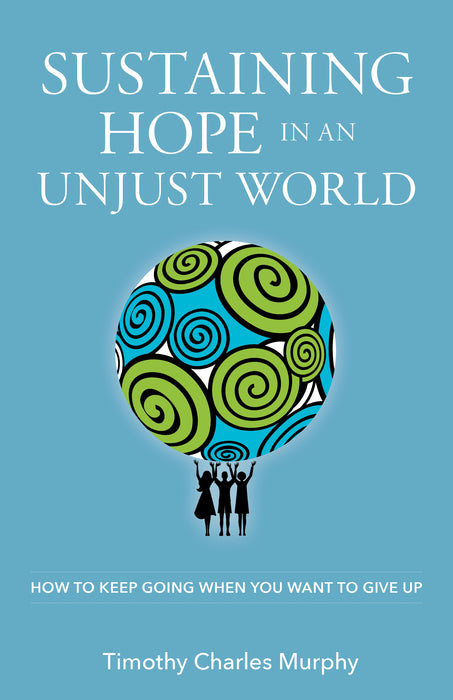 Sustaining Hope in an Unjust World: How to Keep Going When You Want to Give Up
Save

Liquid error (snippets/product-badge line 32): Computation results in '-Infinity'

%
Bookshop | Indiebound | Amazon | Barnes & Noble
Books-A-Million | Christianbook.com 
"Gripping stories, unpretentious wisdom, and down-to-earth God-talk: this is an indispensable guidebook for activists who need re-activating." ―Catherine Keller, Professor of Constructive Theology, Drew University
Where is God when we're losing the fight?
In our faithful work toward building a better world, we may often feel we're losing the battle. The poor get poorer, the vulnerable continue to be abused, and justice for all is a distant dream. No matter how hard we work, nothing changes. Somedays, we wonder if God is even still with us in the fight.
But what happens, in our striving for social justice, when we discover that God offers us something entirely different than the promise of victory? In this love letter to the disheartened activist, pastor Timothy Murphy reflects on his own journey of disappointments and despair to rediscover a faith--and a God--who inspires us to continue fighting, even when it feels like we're losing the battle.
Endorsements

"Gripping stories, unpretentious wisdom, and down-to-earth God-talk: this is an indispensable guidebook for activists who need re-activating. When your hope flags, grab this book and read!"―Catherine Keller, Professor of Constructive Theology

"Murphy has thought deeply and honestly as he lived out his calling to liberate and seek justice. Other Christian activists will resonate to much that he has said. He recognizes unflinchingly the depth of resistance to reform from others, from the system, and from our own weariness and despair. In the context of repeated failure and hopeless odds, he calls us to keep on keeping on. We are not likely to be victorious. But our faithfulness will make a difference, a difference worth making. Thank you, Tim, for calling us, without self deception or false expectation of divine intervention, to lives of faithfulness, hopefulness, and love."―John B. Cobb, Jr, Founding Co-Director of the Center of Process Studies and Press and Faith

"Tim Murphy's new book is just what I needed. If you need encouragement, perspective, and solid reasons to keep going in the struggle for justice, get Sustaining Hope in an Unjust World."―Brian McLaren, author of The Great Spiritual Migration

"Ever struggle keeping faith when evil wins, love fails, and you lose a fight for justice and peace? Then this book is written for you! Murphy's stories and insights offer a powerful new look at activism and hope from a progressive Christian perspective."― Wm. Andrew Schwartz, Ph.D. Executive Director, Center for Process Studies

"Timothy Murphy's Sustaining Hope could not be more timely, as all who struggle for justice now face overwhelming and urgent challenges. Dr. Murphy invites us to find hope in the very essence of what it means to be faithful. His style is warm and engaging, his arguments lucid and convincing, and his book is perfectly fashioned and formatted for fueling rich small group conversation. Timothy Murphy gives us the powerful and accessible theology and ethics that this 21st century desperately needs. A great resource for these difficult days."―Rev. Peter Laarman, Former Director, Progressive Christians Uniting