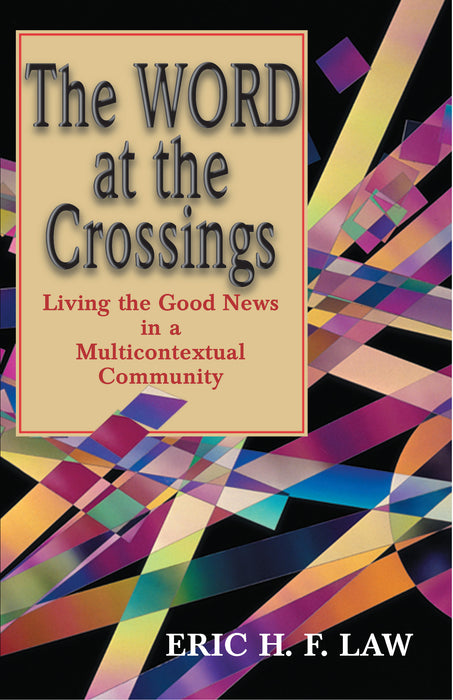 The Word at the Crossings: Living the Good News in a Multicontextual Community
Save

Liquid error (snippets/product-badge line 32): Computation results in '-Infinity'

%
Eric Law believes that we are called by God to actively seek encounters with people who are different from us because at the crossings of our differences of race, culture, gender, sexual orientations, ability, economic class, and theology, lies the opportunity to widen our understanding of the gospel. But how do we open our hearts and our minds to such pluralism and live as God intends us to live? How can we be transformed by our differences as we seek to align ourselves with God?

Eric Law invites readers to follow him on a journey of discovery, a path to connect with Christ's way, truth, and life. He encourages us to stop denying the conflicts that arise out of the differences within us and between us and to name these conflicts, allowing differing perspectives to affirm, enrich, or challenge one another. He proposes practical disciplines, models, and techniques to help us communicate openly, honestly, and without judgment with ourselves, with others, and with nature. Law shares his personal stories and experiences and calls us to explore our own stories, frameworks, and God-concepts that we may grow in and live the Good News.

For those called to serve in God's church, The Word at the Crossings includes an appendices with specific exercises and techniques for Christian educators and pastors, including a sermon preparation model.
Endorsements
"The Word at the Crossings is a provocative book that leads the reader to ponder a wide array of pastoral and theological issues that otherwise may not even come to mind. Read it and wrestle with the issues it raises."
—Dr. Pablo A. Jiménez, National Pastor for Hispanic Ministries, Christian Church (Disciples of Christ)

"The Word at the Crossings offers practical ideas, resources, models, and techniques for all involved in building inclusive communities in multicontextual environments."
—Edith Prendergast, RSC, Director of the Office of Religious Education, Archdiocese of Los Angeles

"Eric Law has opened a whole new dimension in the discussion of pluralism, and he has done it with fascinating stories and dramas drawn from his own experience as a Chinese American. He calls these experiences 'crossings,' and he finds them in the fourfoldness of the Gospels and the constant communications across the divides that have separated us from other Christians and other religions. Eyeopening."
—Walter Wink, Author of The Powers That Be: Theology for a New Millennium

"The Word at the Crossings is a treasure, full of fresh insight, moving narratives, and practical ideas. Eric Law once again has blessed us with a book to help us preach, teach, pray, and, most of all, live as faithful Christians in God's richly, wonderfully diverse world."
—Marjorie Procter-Smith, Perkins School of Theology