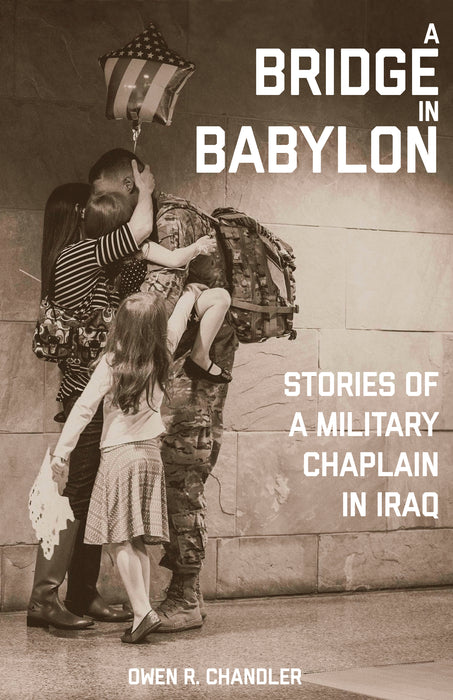 A Bridge in Babylon: Stories of a Military Chaplain in Iraq
Shipping Now! 

Also available here: Bookshop | Indiebound | Amazon | Barnes & Noble | Books-A-Million  
Army chaplain Owen Chandler takes us to the battlefields of Iraq in this gripping spiritual memoir of war, love, family, church and God.

As an Arizona Army National Reservist, Rev. Chandler was deployed to Iraq as chaplain of the 336th Combat Sustainment Support Battalion, leaving behind his wife, three young children, and a congregation for more than a year.
In this honest and eloquent memoir, Chandler shares his story of serving as an "embedded presence of hope" in Iraq through personal letters, journal entries, scriptures and photos exchanged with family back home.
Expanding far beyond the military chaplain caricature of M*A*S*H's Father Francis Mulcahy, Chandler reflects on the brutal realities of war, his fellow soldiers, and the families waiting for them all to come home. He shares the struggle to hold onto faith and hope in the midst of battlefields, opening readers' hearts to the challenges of military chaplaincy and the plight of veterans shattered by their experiences.
A Bridge to Babylon inspires readers and provide tools to create bridges to our veterans, especially Reserve soldiers with shockingly high rates of suicide and substance abuse. 
SPECIAL OFFER:  Buy 10, Zoom with Owen! 
Buy 10 or more copies of A Bridge in Babylon and Rev. Owen Chandler will Zoom with your group for a 40 minute session.  Proof of purchase required; email marketing@chalicepress.com to schedule your ZOOM!
WATCH THE BOOK TRAILER
Endorsements & Reviews
"...a frank, faith-filled account of military life...Chandler's affecting memoir testifies to the traumatic cost of perpetual war."—Publishers Weekly (Starred Review)
"Captivating, original, honest. Chandler's prose shines, especially when exploring family, struggle, relationships and courage. Seeing war—and peace—through a chaplain's lens is a necessary and insightful read."—Kathryn Bertine, author, STAND: A memoir on activism. A manual for change.
"Simply put A Bridge in Babylon is a 'must read' for every church leader whose congregations and classrooms include veterans, military reservists and military family members.  This intimate and authentic record of one chaplain's deployment and return home clearly demonstrates the joys, frustrations, sacrifices, doubts, fears and successes of ministry within highly diverse, pluralistic, and often, lethal environments."—Kyle Fauntleroy, M.Div., Captain, Chaplain Corps, USN (Ret.) and Director of Development, Brite Divinity School 
"Owen is the voice we need right now as a nation engaged in endless war. With both humor and hope, he offers a blueprint for congregations to better support soldiers and their families as we wake up to the terrible cost of war upon the soul of our nation."—Alison Harrington, pastor, Southside Presbyterian Church, Tucson, Arizona 
"Owen Chandler's A Bridge in Babylon is searing testimony about the effects of war abroad and at home, a tender love-letter to his family and the Tucson congregation he left for more than a year, and a compassionate tribute to those whom he served as "padre." A master storyteller—with an ear like Raymond Carver's, an eye like Tim O'Brien's, and a heart like Carolyn Forché's—Chandler proffers a gift we didn't know we needed so desperately: compelling inspiration to care with renewed commitment for soldiers whom we have sent into "perpetual war."—Robert Lee Hill Community Consultant Minister Emeritus, Community Christian Church
"Chandler invites us into the realities of ministry in the context of war and the emotional and relational costs of deployment for families as well as troops."—Nancy J. Ramsay, Director of the Soul Repair Center, Brite Divinity School
"Military chaplains embody the love Christ calls us to show every day, reminding us that even if we are exiled far from all we know and love, God is with us and loves us unconditionally. Chandler tells his own story to further the support of so many other military chaplains, for whom he advocates fiercely."—Terri Hord Owens, General Minister and President, Christian Church (Disciples of Christ) 
This book is made possible in part by a gift from Rev. Dr. Gaylord and Diana Hatler in honor and memory of those brave women and men who serve and have served so faithfully as armed forces chaplains.