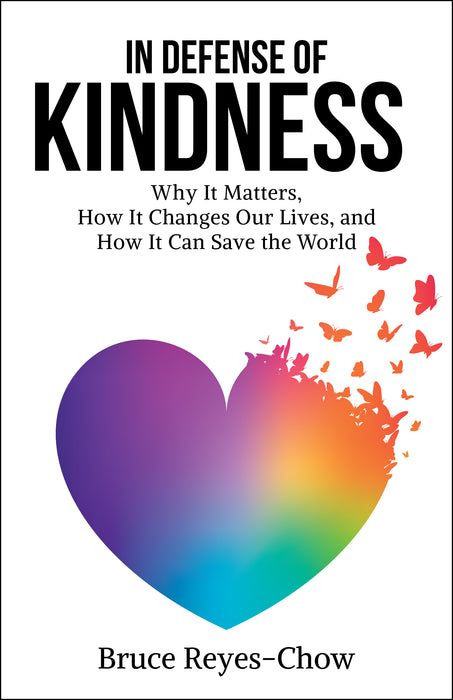 In Defense of Kindness: Why It Matters, How It Changes Our Lives, and How It Can Save the World
Also available at: Amazon | Barnes & Noble | Bookshop | Books-a-Million | Cokesbury
Now Available as an audio book from Audible.
"A simple, yet staggering work that examines a precious and rare commodity in this present world."–Jeff Yang, CNN & Wall St. Journal
These days we view kindness as an inert act based on the absence of being a jerk, or we see it as heroic and herculean, beyond the reach and capability of mere mortals. But what if kindness was a practice we could each choose, every day, as a way to experience community and wholeness in new, life-giving, world-changing ways?
In his insightful new book In Defense of Kindness, leadership coach and pastor Bruce Reyes-Chow shows how being kind (which is different than being nice) has the power to transform our relationships in all arenas of our life – from the internet to the public square, from those closest to us to those we find it hardest to be kind to, from justice work on the streets to meetings in the boardroom, and from the line at the coffee shop to the line for school drop-off.
Relevant, uplifting, warm and relatable - and written with Bruce's trademark cheeky wit - In Defense of Kindness will jumpstart your heart and inspire you to practice kindness as a daily discipline, grounded in the idea that each person is created and complex and worthy of dignity and respect. 
Each chapter ends with reflection questions and several practices for living out kindness in the world every day. Join the kindness movement and help heal the world!
WATCH THE BOOK TRAILER
Endorsements & Reviews
"In this essential read, Bruce Reyes-Chow translates his life of living and teaching kindness into this powerful guide that reminds us of the importance of kindness in our daily lives. In a time of constant change, there could hardly be a more important lesson than this."–Rohit Bhargava, #1 Wall Street Journal bestselling author of Non-Obvious Megatrends
"With wit and heft, In Defense of Kindness lights a candle and guides us out of the grift. Reyes-Chow points the way to what our truest selves long for–to be well."–Lisa Sharon Harper, author of The Very Good Gospel: How Everything Wrong Can Be Made Right
"In Defense of Kindness brings a much needed message in a world filled with violence, intolerance, poverty, and racism. Reyes-Chow does not indulge in nostalgic views of 'gentler times,' nor a definition of kindness that is simply about being nice to those you agree with (or even vehemently disagree with), but treats kindness as a serious balm for our personal and political lives and the social justice struggles of our day."–Rev. Dr. Liz Theoharis, Co-Chair of the Poor People's Campaign: A National Call for Moral Revival 

"Woven through with personal anecdotes, observations and memories, this is not a 'self-help' work, but a companion for self-awareness. Bruce's book is deeply needed, and an essential jumping off point for the conversations that might actually heal our vast and jagged national divides."–Jeff Yang, CNN columnist, cohost of the podcast They Call Us Bruce, and coauthor of the forthcoming book Rise: A Pop History of Asian America, from the Nineties to Now
"According to Presbyterian pastor and leadership coach Reyes-Chow, being kind and being nice are not synonymous actions. To be kind is to treat other people in such a way that will preserve their dignity, while choosing to be nice is a way to avoid conflict. Drawing inspiration from the late Fred Rogers, Reyes-Chow wrote this book to convince readers that showing genuine kindness can make a positive difference. This encouraging guide is recommended for persons who seek motivation in being a light in the world."–Library Journal
"Through humor, personal story and gentle guidance, Reyes-Chow wins us over In Defense of Kindness, bringing us out of our cynicism and doubts to believe and choose a life of kindness. With concrete suggestions for everyday situations, from family to street protest, the book illuminates that a brave kindness wields the power to transform."–Rev. Deborah Lee, executive director, Interfaith Movement for Human Integrity
"Reyes-Chow not only offers excellent insights in this book, delivered with his usual cheeky wit and disarming authenticity, he also assigns practical homework at the end of each section to help us bridge the gap between pondering kindness and actually working out our kindness muscles. Highly recommended."–David LaMotte, songwriter and author of Worldchanging 101: Challenging the Myth of Powerlessness
"In an age where kindness is needed more than ever before, Bruce Reyes-Chow has given us a beautiful book weaving us back into community with each other. I highly recommend this book for anyone wishing to make this world more kind, just, and generous."–Cameron Trimble, executive director, Convergence, and author, Piloting Church
"In Defense of Kindness is a thoughtful, introspective, and timely exploration of what it means to actively choose kindness as a political and personal principle – a much-needed salve as we emerge out of the darkness of the last four years and take a healing step towards a brighter (and hopefully, kinder) future. –Jenn Fang, founder, Reappropriate
"In this time when meanness is not only encouraged but celebrated, Bruce Reyes-Chow provides a healing balm. With humor, honesty, wisdom, and practical advice, In Defense of Kindness will help you discover the hopeful, courageous, and generous spirit that waits within every human heart."–Mark Yaconelli, author of The Gift of Hard Things
"In an age when bullying behavior is so pervasive--whether in playgrounds, pulpits, or from political leaders--Bruce Reyes-Chow calls for a return to kindness. From the personal sphere to the public square, In Defense of Kindness challenges us to look at relationships through the lens of dignity and respect and engage in behaviors that center kindness as a radical act that honors the humanity of us all."–Bishop Karen Oliveto, Mountain Sky Conference of The United Methodist Church

"At a time of profound discontent across the country, Bruce Reyes-Chow challenges readers to re-image the power of kindness as a way of being in the world. Using personal stories and self-deprecating humor, the author demonstrates how kindness is a powerful resource for personal growth and radical social change."–Susan E. Young, Director for Religious and Spiritual Life, Occidental College

"In this timely book, Bruce Reyes-Chow shows just how much kindness affects our whole way of being and offers practical and relevant ways for healing our world's divisions and conflicts, as well as our deeply personal relationships. What an important, authentic, and inspiring reminder to appreciate kindness and dare to incorporate it once again into our daily living!"–Janie Spahr, PC(USA) minister and LGBTQ+ activist