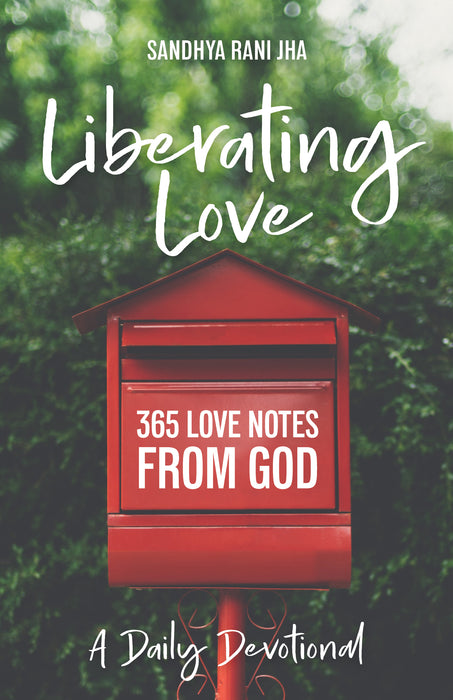 Liberating Love Daily Devotional: 365 Love Notes from God
Also available at: Bookshop | Amazon | Barnes & Noble | Books-A-Million 
Are you longing for an encouraging word from God, just for you, just for today? 
Liberating Love Daily Devotional features 365 "love notes" from God, intimate messages of hope and comfort to connect you more deeply with God and all of God's beloved. When the world is scary and comfort is in short supply, open the pages of this daily devotional and receive a personal word from a loving God who sees and values your life and accompanies you in your struggles.
Drawing from all 66 books of the Bible, each devotion includes scripture, a brief meditation, and a word of hope, encouragement, and challenge to inspire you to live and love courageously and faithfully every day of the year. 

Endorsements
"I am so grateful for a daily devotional that honors both scripture and real life. Jha offers us a real jewel here; a way to root ourselves in The Word while not having to put on some kind of petty piety to do it. This devotional is magically pastoral and realistic. I really can't wait to use it!"—Nadia Bolz-Weber, New York Times bestselling author
"Sandhya Jha has given us a devotional that is at once both comforting and challenging.  In these times, we need more than ever to be reminded not only of the unconditional love of Jesus, but of his commandment to love boldly and courageously to bring liberation to all the world."—Terri Hord Owens, General Minister and President, Christian Church (Disciples of Christ)
"I love this book. I have plenty devotionals, I have collected during the years. My all time favorites get a space on my night stand. This book will surely find a space.   Sandhya's writing style is Refreshing, inviting and leaves a lasting impression on one's heart. I highly recommend this book for your nightstand."—Sharon Risher, author of For Such a Time as This
"If I had a dollar for every time someone asked me to recommend a progressive, easy to digest and prophetic devotional, I would have a lot of dollars. This one by Sandhya Jha is just perfect. I like that the reflections are short but have depth to them and have a progressive perspective. If I were ever going to buy a devotional for everyone in my congregation, this would be the one."—Traci Smith, author of Faithful Families and Faithful Families for Advent and Christmas
"Liberating Love: A Daily Devotional is a theological telescope for the soul. Rev. Jha dynamically extends and re-arranges lenses to illuminate the kind of light that connects the beloved community with the deeply rooted gifts of scripture. The arc of justice-making and community building is long. She brilliantly feeds us sustenance for each day as she carefully reminds us of the ways that we are liberated by and for community."—Yvonne T. Gilmore, Associate Dean, Disciples Divinity House of the University of Chicago, Core trainer, Reconciliation Ministries, Christian Church (Disciples of Christ)
"In a time when we need more than ever to remember we belong to one another, these beautiful, authentic devotions bring God's hope for community straight to our hearts. Written with refreshing personal conviction and disarming tenderness, this devotional will set you free and empower you toward a life of love over fear."—Arianne Braithwaite Lehn, author of Ash and Starlight: Prayers for the Chaos and Grace of Daily Life 
"It is time to be still and read Liberating Love: 365 Love Notes From God. You will find new life in God's love notes written just for you; words of compassion, encouragement, hope and love. In these poetic, prophetic, and faithful devotions of love you will experience spiritual liberation. The world needs these love notes from God now more than ever."—Sarah Griffith Lund, author of Blessed Are the Crazy: Breaking the Silence about Mental Illness, Family, and Church
"In a world that too often feels like it is plunging into chaos, Sandhya Jha's steady voice calls us back to intimacy with a God who is both capable of shaping a world from the formless void and of holding our broken hearts in tender hands. This lovely book reminds us that God is always seeking to summon us into the joy of a new creation where peace and justice bind us together in a community that finds its home in God's expansive love."—Derek Penwell, author of Outlandish: An Unlikely Messiah, a Messy Ministry, and the Call to Mobilize