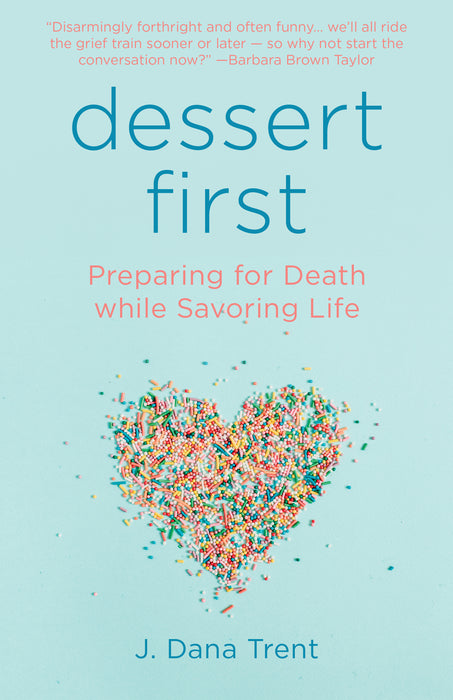 Dessert First: Preparing for Death while Savoring Life
Save

Liquid error (snippets/product-badge line 32): Computation results in '-Infinity'

%
Foreword Indies Book of the Year Award, Bronze Winner, Grief/Grieving
What if we embraced death as a meaningful destination on the journey, rather than a dreaded landmark? How would that change the way we think about death, dying and grief ... and how we live, now?    

In the year she served as a chaplain in a hospital "death ward," Dana Trent accompanied more than 200 people — and their families — on their passage from life to death. Dessert First gathers those stories and lessons, as well as others learned from the year she spent with her own dying mom, to illuminate the complexity of death and grief, and how we all might better prepare for a "good death." 
Dessert First is a deeply personal, touching, and sometimes even humorous look at death and dying, and the ways we cope and create meaning for the inevitable end of life. Final chapters include religious, spiritual, practical, and legal resources for the reader and their loved ones.
Download the Reader's Guide for Groups & Individuals
NEW: Create a "Death over Dessert" Club with this Virtual Discussion Guide
Endorsements
"In this disarmingly forthright and often funny book, Dana Trent reminds her readers that we're all terminal, and we'll all ride the grief train sooner or later--so why not start the conversation now? Her ability to convey what she has learned as a hospital chaplain, a daughter, and a teacher grounds every page in the real world, making it impossible to resist her invitation to begin thinking about The End in a life-giving way." ―Barbara Brown Taylor, author of An Altar in the World
"Dessert First is an exceptionally well-written, inspired, and inspiring book. Trent's perspective would appeal to readers across most faith traditions, and even many who wouldn't be inclined to pick up a work like this."— Robert Gray, Editor/Columnist, Shelf Awareness
"If grief is the language of love, this unflinching book shows us how to love a little deeper." ―Kate Bowler, author of Everything Happens for a Reason (And Other Lies I've Loved)

"Dessert First really helped me. It helped me prepare for the deaths of people I love. It helped me prepare for my own death. Don't worry: it isn't a book written by Miss Morbidity. J. Dana Trent is funny and professional and human, exactly the kind of person you want to help you face life's one actual certainty." ―Brian D. McLaren, author/activist
"Dessert First is both a deeply moving and incredibly practical guide for dying (and living) well. It's essential reading for the mortals among us." ―John Pavlovitz, author of A Bigger Table, Hope and Other Superpowers, and Low

"Dessert First is a delicious treat--nourishing and enjoyable. A timely reminder not to neglect the things that matter most. Practical, truthful, needed."―Philip Gulley, Quaker author of If the Church Were Christian

"What is a good death? How does one prepare? Trent's wisdom comes in narrative form, which adds to the accessibility and, dare I say, enjoyment of this thoughtful book. It deserves many readers." ―Richard Lischer, Duke Divinity School, author of Stations of the Heart: Parting with a Son

"There is great freedom in accepting the reality of death. There is even joy. And possibly -- a great deal of humor. It is all here in Dessert First, a book about death that adds up to the fullness of life implied by the title. Dig in."―Erin Wathen, author of Resist and Persist: Faith and the Fight For Equality and Patheos blogger (Irreverin)