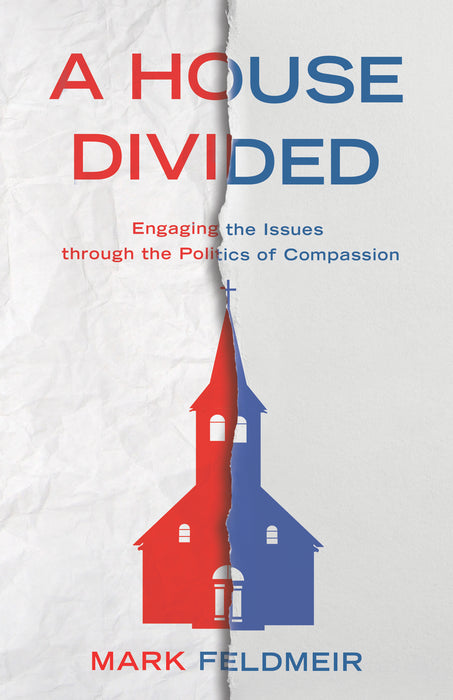 A House Divided: Engaging the Issues through the Politics of Compassion
Bookshop | Amazon | Barnes & Noble | Books-A-Million 
"...a clarion call for critical thinking and critical action that are well grounded in and informed by faith."―Walter Brueggemann, Columbia Theological Seminary
An exploration of eight of the most divisive issues of our day
Climate change, immigration, medical aid in dying, Islamic extremism, racism, healthcare, homosexuality, and preventing suicide.
In our current culture of conflict, Americans need a better way of relating to one another and responding to controversial issues; a way that transcends political partisanship and emphasizes universal care, mutual concern, and the flourishing of the common good.
In A House Divided, Mark Feldmeir, pastor of a 3,500 person, politically diverse United Methodist congregation, suggests that the solution to our political entrenchment is a shared commitment to practicing a politics of compassion; the motivating, unifying ideals of the gospel that insist that we work together for the benefit of the common good. 
Through a series of axioms, or principles we can all agree on, Feldmeir seeks to identify those shared values that affirm our commonality and inspire a more creative and collaborative approach to finding practical solutions and healing our divisions. A House Divided will help you find the common ground on the issues to work for the common good. 
Each chapter includes a study guide for small group conversations.

BONUS CONTENT: Download the 8-Part Video Series Curriculum for Small Groups, by chapter:
Join the Preaching the Common Good Weekly Gathering for Pastors and Church Leaders, Wednesday evenings at 8pm ET through Nov 11 
Book Trailer
 Endorsements
"In the midst of so much division all around us, pastor and author Mark Feldmeir creatively addresses some of our most divisive issues by building on agreed-upon principles, or axioms, in order to begin conversation that is both realistic and mutually compassionate. And the materials he shares for further study by small groups or individuals is icing on the cake! We need tools like this."―Michael B. Curry, Presiding Bishop of The Episcopal Church and author of The Power of Love 
"The Bible speaks again and again about the supreme value of wisdom. But in light of the mess our world is in, wisdom appears to be in short supply these days. That's why you, your small group, your class, and your whole congregation would by wise to read Mark Feldmeir's new book. It invites us to turn down the talk radio and cable news know-it-alls, and instead, to come together, reason together, and listen for the wisdom that we need. You might even buy a copy for a person "on the other side of the aisle" and use it as a basis for intelligent conversation. Our future depends upon it! ―Brian D. McLaren, author/speaker/activist
In an age of intense political polarization, Rev. Mark Feldmeir tackles some of the most polarizing topics of our day. Through the lens of compassion, he takes the reader on a journey, utilizing science, history, and social sciences to explore beyond rhetoric and take a second look at our assumptions. Most importantly, Mark encourages conversation so that we can not only learn from one another, but deepen bonds of community even in the midst of difference. This is an important and timely book.―Karen P. Oliveto, Bishop of the Mountain Sky Conference of The United Methodist Church and author of Together at the Table: Diversity without Division in The United Methodist Church
"There has never been a more critical time for a book like this. Mark Feldmeir shines a spotlight on the controversial issues dividing our country today, and shows us how to find enough common ground to work together for the common good." —Doug Pagitt, Executive Director, Vote Common Good, and author of Outdoing Jesus: Seven Ways to Live Out the Promise of Greater Than
"For Christians, persons of other faith traditions, and those who bring no presumption of belief, A House Divided awaits.  It will challenge, delight and become an invaluable resource.  In this small volume, Mark Feldmeir offers well-reasoned insights into many of the issues that paralyze our national resolve to seek the common good.  For those fed up with simplistic religious shibboleth, or, worse yet, the soft bigotries that flow from too many pulpits, this is an antidote."―Philip Amerson, President-Emeritus, Garrett-Evangelical Theological Seminary
"In as time of sharp divisiveness when our old certitudes are profoundly in jeopardy, Mark Feldmeir offers a clarion call for critical thinking and critical action that are well grounded in and informed by faith. He ducks none of the important questions, but brings to them his wisdom, his passion, and his proper sense of urgency. This clear accessible book merits close attention. It will serve well for pastors, congregations, and other folk who care about our future in a world that at present is becoming more and more unlivable. Feldmeir shows a way past our present failure into new healthy social possibility."―Walter Brueggemann, Columbia Theological Seminary 
"The Rev. Mark Feldmeir has given thoughtful people of faith a fine and timely gift, with the publication of A House Divided.  You can hear the strong preaching voice which first shaped these meditations.  Also and more so you can unmistakably recognize the pastoral experience and rumination out of which the chapters have come—this itself makes the book a real stand out.  The clarity of expression and of order, both of the book as a whole, and within each chapter, carry a particular power as well.  And his call to compassion, segment by segment, 'axiom by axiom', is much needed, a balm in Gilead, in our time.  I expect many church study groups, including one of our own here in Boston, will find this a welcome addition to the reading list."―Robert Allan Hill, Dean, Marsh Chapel