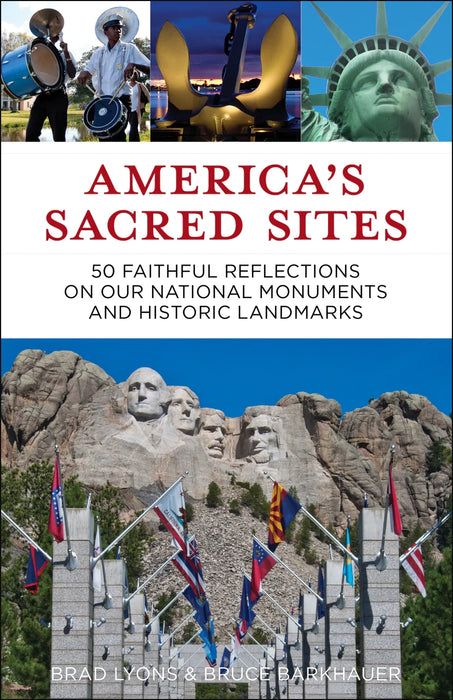 America's Sacred Sites: 50 Faithful Reflections on Our National Monuments and Historic Landmarks
Bookshop | Indiebound | Amazon | Barnes & Noble
Books-A-Million |  Christianbook.com
The perfect gift for the armchair traveler, history buff, National Park lover, explorer, or spiritual wanderer on your list.
Take a cross-country journey to all 50 states without leaving home! In this unique collection of 50 meditations and images from America's most sacred sites, you'll discover (or rediscover) America's most historic monuments -- the Statue of Liberty, Pearl Harbor, Harper's Ferry, Devil's Thumb, to name a few -- and experience our national treasures in a brand new way. 
As authors Brad Lyons and Bruce Barkhauer reflect on the history and significance of each site, they consider a unique trait of each landmark and connect it to your own life. Courage, mercy, leadership, liberty – these are just a few of the themes you'll explore on this unique journey through America's sacred sites. 
This "national parks devotional" is an inspiring gift for yourself -- or others --to enjoy all year long!
From the authors of America's Holy Ground: 61 Faithful Reflections on Our National Parks
Praise for America's Holy Ground
"With our national parks under threat, books such as this one are more welcome than ever, coming as reminder of what we stand to lose when shortsighted policies remove the protections placed around America's sacred, wild places. America's Holy Ground captures the essential flavor of each of the sixty-one featured parks in stunning full-color photographs accompanied by spiritual reflections designed to evoke holy moments in nature. A tempting menu of awe-inspiring places, America's Holy Ground: 61 Faithful Reflections on Our National Parks features well-known national parks from Acadia to Zion and some that are less familiar. Even if your travels are of the armchair variety, its expert photography reveals what it's like to feel really small as you stand beneath the largest tree in the world (by volume) in Sequoia National Park; watch the tumultuous North Atlantic waters crash against Acadia's coastal cliffs as the first rays of the sun strike the continent; skip a rock across the Rio Grande (and the border into Mexico) at Big Bend National Park; or escape into solitude at Michigan's Isle Royal, surrounded by Lake Superior's icy waters. You might choose to see massive calving glaciers at Alaska's Kenai Fjords National Park and learn the signs of a warming planet, or stand on the back patio of Lassen Volcanic National Park's visitor center and stare into the maw of Lassen Peak, an active volcano. America's Holy Ground honors those—from indigenous peoples to camp counselors, park rangers and legislators—who have sought to protect our national parks. Its photos capture everything from the immense power and grandeur of rock, cavern, and ocean to the delicacy of a fragile bloom and the refreshing silence of deep forests. These, joined with historical information, Native American wisdom, contemporary science, and Bible-based devotionals, make this lovely book perfect for collecting or gifting." - Foreword Reviews
"Former journalist Lyons and pastor Barkhauer (Community of Prayer) share their belief in the spiritual power of nature in these brief meditations of national parks. Each begins with a quotation from the Bible before relating natural phenomena that inspire "humility, wonder, awe, and gratitude... such as when you peer over the rim of the Grand Canyon." The authors also provide meditations on a theme related to the park. In the entry on Bryce Canyon, Utah, which isn't a canyon but "a collection of hoodoos, fins, spires, and other formations" formed by rain, the nature of language is the focus. In Glacier Bay, Alaska, the authors consider landscape changes over millennia, rendered starkly by the icefalls from glaciers, a metaphor for the slow movement of God's work. ...these ruminations on American national parks ... invite readers to appreciate the value of protected places and ponder their spiritual power." - Publishers Weekly
"America's Holy Ground... is one way to enhance the experience of visiting the parks or to think about what those parks can teach us even if we can't be there. To say that many of the photos in the book are gorgeous would be true, but on the other hand it's sort of difficult to take a terrible picture in our national parks. If I were about to visit one or more of our national parks (and may our government preserve them forever), I'd for sure take this small book along as a welcome companion." -Bill Tammeus, former Faith columnist for the Kansas City Star
"The national parks demonstrate God's deep love for us through their vast beauty. Whether through desert landscapes, ocean coral, or high mountain summits, it is clear that these lands are holy ground. In Lyons and Barkhauers new devotional, "America's Holy Ground", we are reminded again of God's love for us in the midst of these 61 beautiful national parks. These reflections are inspiring, educational, and thought-provoking, and a must read for any national park or outdoor enthusiast. Trust us, you won't be disappointed!" – Amy Kennedy, Co-Executive Director of A Christian Ministry in the National Parks (www.acmnp.com)
"Travel friendly and easy to take with you to see the parks that you want to see."       — Chris Erickson, Off the Beaten Path Bookstore, Steamboat Springs, CO