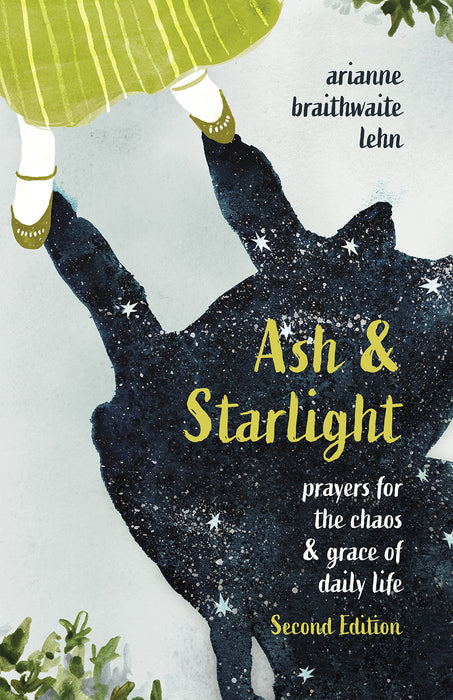 Ash & Starlight (2nd Edition): Prayers for the Chaos & Grace of Daily Life
"A collection to cherish, to share, to keep, to have as life's inevitable challenges stop us in our tracks."―Kathleen Long Bostrom
What if who you are and where you are right now -- in all the mess and the beauty -- is exactly what you need to find your deepest connection with God yet?
In Ash & Starlight, spiritual writer and pastor Arianne Braithwaite Lehn provides encouragement for life's journey in these honest and poetic prayers drawn from the everyday emotions, joys, and pain of our days. In this collection of 60 tender prayers, your soul will rejoice, accept, surrender, and trust amid the ash and starlight of your daily life.
The second edition (2023) includes new material written during and since the COVID pandemic — "prayers for the falling apart, the relational stretching we've experienced, the hearing and heeding of justice's call, and the longing to be made new."
Ash & Starlight features prayers for centering, confession and release, guidance and transition, waiting and struggle, comfort and strength, trust, and seasonal times of year. will help you find connection and wholeness in your own daily pilgrimage and empower you to live authentically and soulfully, embracing the brokenness and beauty of your life right now, just as it is.  

This beautiful book featuring original cover art by Penelope Dullaghan is the perfect gift for a friend, family member, a neighbor, a new Mom, and anyone seeking spiritual nourishment in their daily journey!
Sample prayers:
When I need perspective at the start of a day




When I feel like everything fell apart




When I want to numb, avoid, and block




When I must take a stand




When I don't want to love someone




When I feel trapped by the pressure




When I'm in the messy middle of something




When I need to trust where I am is right




When I ache with hurt




When I can't sleep




For the New Year




For Summer's Ending




A Parent's Advent Prayer




A blessing for someone you love (and yourself)



Endorsements
"Even with a shelf dedicated to prayer books and with journals and computer files filled with my own, Ash and Starlight is the prayer book I've been longing for. Lehn's gorgeous writing, her disciplined focus and yet wide-open spirit give us the words to pray when we're fresh out and lead us to ask for things we might not know we need. What a gift this book is! A must read for prayer 'warriors' and 'novices' alike." ―Caryn Rivadeneira, author of Grit and Grace: Heroic Women of the Bible and Gritty and Graceful: 15 Inspiring Women of the Bible.
"This is a book to savor and share. Its prayers can strengthen our life-giving connection with God, helping us participate in prayerful dialogue that sustains and nourishes our days. This book is a blessing."―Donald K. McKim, author of Everyday Prayer with John Calvin and Mornings with Bonhoeffer: 100 Reflections on the Christian Life

"This is a time when the voice of faith—with its claims, its risks, and its daring—must be articulated with venturesome freshness. Arianne Lehn responds to that requirement and here offers a rich catalogue of prayers that are open, inviting, and elusive enough for many entry points. Her imaginative probes are deeply linked to scripture, playful enough to be a fitting match for the playfulness of scripture. It is exactly, as she says in her subtitle, a moment for grace and chaos. Those who engage this book will find courage for chaos and receptivity for grace." ―Dr. Walter Brueggemann, Columbia Theological Seminary

"In Ash and Starlight, Arianne Lehn enters life fully, bringing all it contains into her relationship with the Holy. Here you will find tender prayers resonant with hope, the kind that sail freely on days of joy and stay afloat during times of turmoil. No matter what kind of day you've had, there's a prayer waiting for you."―Joyce Rupp

"Arianne's prayers are crafted from the honest stuff of everyday life. Who of us has not felt messy, jealous, or on a threshold when old beliefs have died? This book meets you in the midst of all that glorious humanity, allowing you to bless the raw, challenging places and infuse them with grace so that you can see your reality in new ways. She offers the gift of potent words when sometimes we don't have our own to form."―Christine Valters Paintner, PhD, REACE, OblSB, author of 12 books including The Soul's Slow Ripening: 12 Celtic Practices for Seeking the Sacred and a poetry collection, Dreaming of Stones.

"As a busy working mom, I crave moments of spiritual connection but need to find them in the cracks of my everyday life. Arianne Lehn's book provides just the right words at just the right time. This book is perfect for setting on a bedside table and picking up for a prayer here and there, when I need it most. Written with tenderness and concern, Ash and Starlight is like having a spiritual director on call, to page whenever I need her." ―Traci Smith, author of Faithful Families: Creating Sacred Moments at Home

"Ash and Starlight is a collection to cherish, to share, to keep, to have as life's inevitable challenges stop us in our tracks. I am thrilled that Lehn's prayers are now gathered in this lovely collection. I will eagerly read and share the book with great joy."―Kathleen Long Bostrom

"In this lush collection of prayers, Arianne Braithwaite Lehn manages to speak in a voice that is equal parts lyrical and unflinchingly real. The complicated breadth of life's joys and challenges are reflected in the pages of this book. For those moments when the feelings are on the tip of your tongue but the words fail you, let these prayers be your guide and companion."―MaryAnn McKibben Dana, author of God, Improv, and the Art of Living and Sabbath in the Suburbs

"At once beautifully poetic and relatable, Ash and Starlight glows. Braithwaite Lehn invites readers on a pilgrimage of prayer and into an awareness of God's abiding presence. Most of all, she welcomes us to share her words as we pray. Her many and varied ways to address the Divine—Welcoming One, My Friend, Patient One, and so many more—are especially moving."―Jennifer Grant, author of Love You More and Maybe I Can Love My Neighbor Too