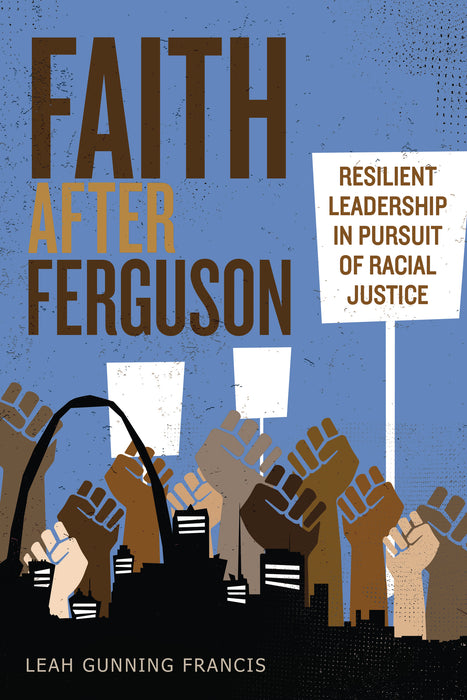 Faith after Ferguson: Resilient Leadership in Pursuit of Racial Justice
Shipping Now! 

Also available here: Bookshop.org | Amazon | Barnes & Noble | Books-A-Million

"Faith after Ferguson should be a source of comfort and inspiration on the long road ahead."–Foreword Reviews

Leah Gunning Francis (Ferguson and Faith, 2015) revisits the clergy and activists from the front lines of the Ferguson, MO, Black Lives Matter protests, to hear what they've learned in the struggle for justice and healing five years later. Weaving the personal accounts of more than a dozen activists and clergy with her own experiences, Francis offers profound new insights on faith-filled living in response to social injustice as well as lessons for organizing and mobilizing people to effect real change.
Learn from the courageous and resilient leaders on the front lines for justice and discover new ways of leading in the movement for racial justice.
Endorsements & Reviews
"Faith after Ferguson focuses on the importance of putting religious teachings into action for the greater good. Though its subject matter is difficult, Faith after Ferguson, with its numerous examples of faith leaders and communities stepping up to fight for racial justice, should also be a source of comfort and inspiration on the long road ahead."–Foreword Reviews
"I deeply appreciate the fresh, engaging ways in which Leah Gunning Francis calls us to regain a taste for racial justice and consider how to move from what is to what ought to be. She's right: God has quite a bit to say about justice, and when we work towards forming Beloved Community it is the God who the Bible says, 'is love' who will lead us."—The Most Rev. Michael B. Curry, Presiding Bishop of The Episcopal Church, and author of Love is the Way: Holding on to Hope in Troubling Times

"Leah Gunning Francis has written that rare book that is at once prophetic, pastoral, and powerful. In Faith After Ferguson, she holds a mirror to the face of America and shows us not just who we are, but who we ought to be. Every person who aspires to be fully human and whole, needs to read this book."—Philip Gulley, Quaker pastor and author of If The Church Were Christian: Rediscovering the Values of Jesus

"In this powerful book, Dr. Leah Gunning Francis impels us to consider how far we have made odyssey towards achieving racial justice since the Ferguson uprisings of 2014. She centers the voices and experiences of the courageous activists and clergy who served on the front lines, compelling us to move beyond a mere awakening to faithful action as part of the ongoing liberation struggle for Black lives in America. This proves an essential text for all who seek in earnest to help bend the moral arc of the universe towards justice, and for it, I am exceedingly grateful. Dare to read only if you seek to transform and be transformed."—Michael W. Waters, pastor, professor, activist, and award-winning author

"More than recounting what has happened in Ferguson, Missouri since Michael Brown was shot and killed by a white police officer, this book reminds us there is a steadily growing list of names and cities across America where unarmed black people continue to face a similar fate. Francis quotes Rabbi Abraham Joshua Heschel who said, 'words create worlds.' The words in this book create a world of understanding about one of the most urgent issues in our country."—Marvin A. McMickle, PhD, President (retired) Colgate Rochester Crozer Divinity School

"With passion and scholarship, Leah Gunning Francis provides an unsparing truth about police violence and racial injustice in America. She pushes the faith community towards truth-telling and a commitment to racial justice and healing by sharing powerful, transformational stories of faith leaders and activists who are working for systemic change."—Rev. Dr. Tracy S. Malone, Resident Bishop, Ohio East Episcopal Area, United Methodist Church

"Faith After Ferguson is the powerful record of a troubled ground spring bubbling to the surface. With masterful storytelling and an ability to keep recent history alive, Leah Gunning Francis weaves facts and timelines with poignant narratives of real people doing the hard work of troubling the waters of justice. She refuses to allow us to look away from the history we are making right now, and by doing so, she insists that we do better. This important work should be taken as the warning it is—otherwise, the generations that come after us will point to it and say, 'Look. You knew. The prophets told you.' Leah Gunning Francis is that prophetic voice, and this book is a cry in the desert for a justice that is too long in coming."—Kerry Connelly, author, Good White Racist?: Confronting Your Role in Racial Injustice