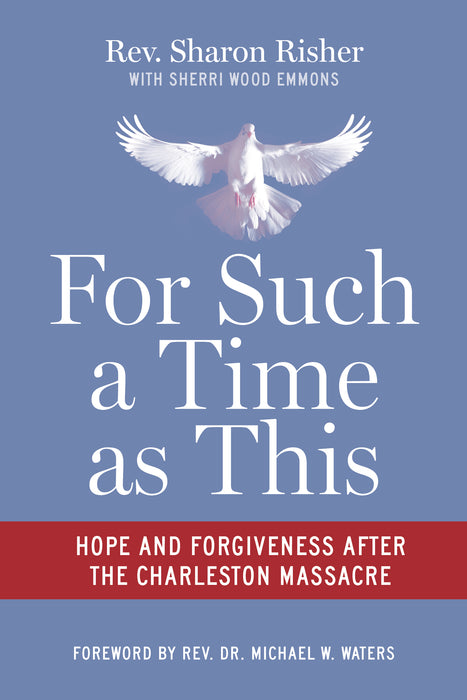 For Such a Time as This: Hope and Forgiveness after the Charleston Massacre
As featured on the Today Show, MSNBC, and CBS This Morning
How do you forgive the unforgivable?
Nothing could have prepared the Rev. Sharon Risher for the harrowing call she received the night of June 17, 2015. Earlier that day, a young white man had walked into a bible study at the historic Emanuel A.M.E. Church in Charleston, South Carolina, and murdered nine people, including her beloved mother, Ethel Lee Lance.
Plunged into the depths of despair, anger, shock, and mourning, Sharon could have wallowed in the pain. Instead, she chose the difficult path of forgiveness and hope – eventually forgiving the convicted killer for his crime.

Sharon's story is one of transformation: How an anonymous hospital chaplain was thrust into the national spotlight, joining survivors of other gun-related horrors as reluctant speakers for a heartbroken social-justice movement. In this raw and riveting memoir of tragedy and faith, Risher invites you into the heartbreaking and intimate details of her family's story as she learns to trust God's timing and lean on God's loving presence to guide her steps. Where her faith journey leads her is surprising and inspiring, as she finds a renewed purpose to her life in the company of other survivors. 
The book includes a final chapter, Lessons Learned, to offer readers hope and encouragement for their own journeys through unspeakable tragedy, trauma, and recovery.

Order 10 or more copies of For Such a Time as This for your small group or book club and get a personal video call from author Rev. Sharon Risher. Contact marketing@chalicepress.com for more.
Watch Sharon Risher's interview with Craig Melvin on the TODAY Show. 
Risher has been interviewed by the Today Show, CBS This Morning, Time Magazine, Marie-Claire, Essence, Guardian-BCC radio, CNN, and other media sources. She regularly shares her story on American college campuses and racial-reconciliation events. "To Forgive a Killer," her essay as told to Abigail Pesta published in Notre Dame magazine, won the 2018 Front Page Award for Essay published in a Magazine, awarded by the Newswomen's Club of New York.


Endorsements
"In this emotional memoir, hospital chaplain Risher explores her life and reaction to the 2015 massacre at Charleston's Emanuel AME Church, in which her mother, two cousins, and a friend were murdered.
Frankly considering what it means to forgive, Risher provides a gripping, unflinching testimony.
"―Publishers Weekly

"When you read Reverend Sharon Risher's phenomenal life story, you will want to hug her, cry with her, laugh with her. She sweeps you up with her unstoppable spirit. Faith keeps her resilient in the face of tragedy, the unthinkable murder of her mother at a prayer meeting in church. She inspires you to overcome colossal hurdles and face life with gusto and humor...and forgiveness." ―Abigail Pesta, award-winning journalist, author of The Girls, coauthor of How Dare the Sun Rise
"Sharon Risher is the very definition of a hero: she's taken her grief and pain and turned it into activism in an effort to prevent other families from experiencing the same anguish her family has.
 Sharon's passion shines through on every page, and her compelling story shows us all how to find courage and compassion in even the darkest tragedy." ―Shannon Watts, Founder of Moms Demand Action for Gun Sense in America
"Rev. Risher is truly one who has been called to rise in faith as a conduit for love, acceptance, and forgiveness.
 Her story will forever stand as truth and compassion in America's shameful culture of hate and discrimination played out through gun violence." ―Rep. Lucy McBath, member of the United States House of Representatives from Georgia's 6th congressional district, and author of 
Standing Our Ground: The Triumph of Faith Over Gun Violence: A Mother's Story
"Rev. Sharon Risher has inspired countless Americans with her journey from gun violence survivor to activist. With such moving honesty and raw emotion, hers is a story of resilience in the face of hatred and violence. 
This book will touch your heart and make you want to stand with her in the movement to end gun violence.
" ―Christopher Kocher, director of Everytown Survivor Network
"
In this "can't-put-it-down" page-turner, the author doesn't mince words in conveying what it means to work through such pain, anger, isolation, and fear, yet, in the end, she generously shares the hopeful lessons she learned so we can vicariously benefit from them. It takes extraordinary bravery to do what Sharon Risher has done by so candidly sharing her story—and we should all be grateful to God and to her for it! This book is a gift to humankind."
―Rob Schenck, Author of Costly Grace: An Evangelical Minister's Rediscovery of Faith, Hope and Love and subject of Abigail Disney's Emmy Award winning documentary, The Armor of Light
"In For Such a Time as This, the Rev. Sharon Risher writes in a voice that those who know her will recognize, the authentic one of an imperfect preacher who smokes and cusses and fought addiction, and who brings to ministry the lessons lived in a real life. 
There are lessons for us all in her story, including an important plea for America to confront the twin evils of racism and gun violence, as she is doing in her new life's role as an 'accidental activist.' That she has heeded this important calling amid such suffering is an inspiration for all of us to read her story and then go do our part."
―Jennifer Berry Hawes, author of Grace Will Lead Us Home
"
As someone who once espoused the same toxic cowardice and irresponsibility that twisted the weak mind of the suffering fool who murdered Ethel Lance and eight other wonderful souls, I say with authority that Sharon's profound voice is righteous kryptonite to the fear and ignorance that compose hate. 
The faith in humanity that this book inspires ensures that hate will never win in the hearts of those who read it."
―Arno Arr Michaelis IV, Speaker, author, educator, filmmaker, and former white supremacist
"To read this book is to be challenged to become a better, more aware and empathic person.
 In sharing her own heart and mind, Rev. Risher encourages us to think more deeply and to be more painfully and uncomfortably honest as we consider difficult topics like grief, the death penalty, race, faith, and forgiveness."
―Dr. Doreen Dodgen-Magee, psychologist and author of Deviced, Balancing Life and Technology in a Digital World, internationally known author and speaker, Everytown Survivor Fellow and National Trainer