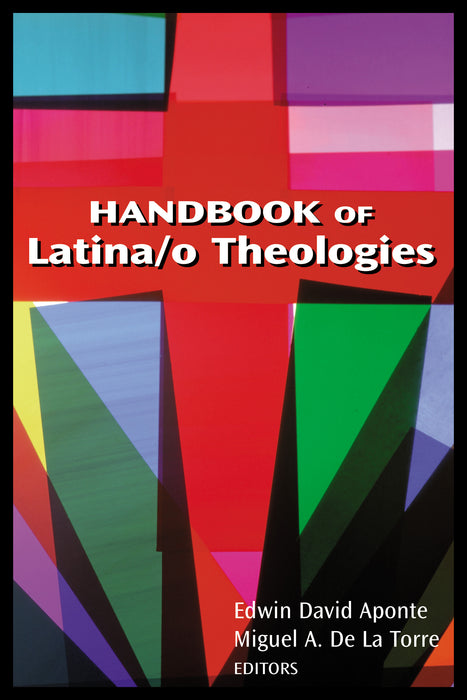 Handbook of Latina/o Theologies
Latino/a theology is a way of thinking about God and spirituality from the perspective of Latino/a communities, which are very diverse in their backgrounds and experiences. Handbook for Latino/a Theologies emphasizes the importance of doing theology in a way that relates to the unique cultural contexts of these communities, challenging traditional theological ideas in the process.
This collection of thirty-four essays surveys how Latinos/as understand and do theology within those varied contexts. It gives attention to the history, nature, sources, and development of Latinos/as theological expressions within the U.S. and their contribution to the overall theological discourse and to the individual groups that gave rise to them. Part I of the handbook presents essays on many traditional topics in Christian theology representative both of the individual authors and various beliefs found in Latino/a communities. Part II focuses on trends and contextual issues within the overall Hispanic/Latino theological conversation.
The text is divided into two main parts: Thematic Essays and Contextual Essays. Thematic Essays delve into various theological topics such as God, Jesus, the Church, and more, all viewed through the lens of Latino/a experiences. Contextual Essays, on the other hand, explore issues like identity, social location, and the different Latino/a groups within the United States.
One important concept discussed in the text is "teología en conjunto," which means collaborative theology. It's about Latinos/as working together to understand their faith and culture better. The text also emphasizes the significance of cultural competence, which means respecting and understanding different cultures to foster effective communication and engagement.
Table of contents and contributors
Introduction: Theological and Cultural Competence en Conjunto Edwin David Aponte
Part I: Thematic Essays
God (Javier R. Alanís)
Jesus (Michelle A. González)
The Spirit (Luis E. Benavides)
The Trinity (Zaida Maldonado Pérez)
Church: A Roman Catholic Perspective (Jeanette Rodríguez)
Church: A Latino/a Protestant Perspective (Juan Francisco Martínez)
Sacraments (Eduardo C. Fernández)
Theological Anthropology (Miguel H. Díaz)
Scriptures (Leticia A. Guardiola-Sáenz)
Ethics (Ismael García)
Sin (David Cortés-Fuentes)
Aesthetics (Alex García-Rivera)
Popular Religion and Spirituality (Anita de Luna)
Eschatology (Luis G. Pedraja)
 Part II: Contextual Essays
The U.S. Hispanic/Latino Landscape (Joanne Rodríguez-Olmedo)
Identity and Social Location (Ana María Díaz-Stevens)
Mexicano/a Descent (Nora O. Lozano)
Puertorriqueños/as (Luis N. Rivera-Pagán)
Cubanas/os (Margarita M.W. Suárez)
Central and South Americans, and "Other Latinos/as" (Manuel A. Vásquez)
Latino/a Catholic Theology (Anthony M. Stevens-Arroyo)
Historic Mainline Protestants (Alberto Hernández)
Evangélicos/as (David Traverzo Galarza)
Pentecostals (Arlene M. Sánchez Walsh)
Alternative Traditions (Miguel A. De La Torre and Edwin David Aponte)
Health and Healing (Kenneth G. Davis)
Pastoral Anthropology in Latino/a Cultural Settings (Harold J. Recinos)
Latina Feminist Theologies (Gloria Inés Loya)
History and Theology (Paul T. Barton)
Mary (Kristy Nabhan-Warren)
Sacred Space/Public Identity (Teresa Chávez Sauceda)
Sexuality (Carla E. Roland Guzmán)
Language, Community, and Identity (Carmen M. Nanko-Fernández)
The Postmodern: Liberation or Language? (Manuel J. Mejido Costoya)