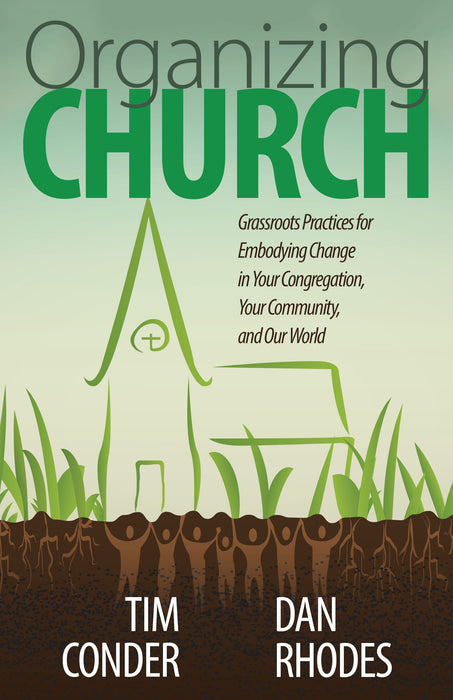 Organizing Church: Grassroots Practices for Embodying Change in Your Congregation, Your Community, and Our World
Save

Liquid error (snippets/product-badge line 32): Computation results in '-Infinity'

%
The 21st century is the age of community organizing, from rallies in the streets to online movements for change. What if congregations embraced community organizing? 


Organizing Church offers a unique perspective that blends proven principles of community organizing and research on socially active congregations into a formula that will revitalize and empower churches as change-agents. Seasoned pastors and community activists Tim Conder and Dan Rhodes will help pastors and other church leaders build healthier congregations, create a deep culture of discipleship in their community, and respond to the challenges presented by the global culture of the 21st century. Organizing Church is the essential field guide for joining the social justice movement today.

FREE Action Guide to organize your church!
Endorsements
"Tim Conder and Dan Rhodes know what they are talking about. They have formed and reformed a number of congregations and have been leaders in fitting churches for more faithful, fruitful futures. Now they tell us how in their spirited call for churches to organize themselves to make a more vibrant Christian witness in their communities. They make a strong case that in giving to our community contexts we receive more lively, faithful congregations. Conder and Rhodes have led community organizing ministry in their contexts, now they guide us in organizing the church Christ means for us to be."― Will Willimon, Duke Divinity School, United Methodist Bishop (retired)

"The Church is badly in need of an ecclesiology which is world centered and not self centered. Organizing needs to remake itself for the new world we find ourselves in. Articulating a theology of our situation is the starting point. Organizing Church is a contribution to both needs. If we learn from it, we can provide hope and bread for a world in turmoil."― Gerald Kellman, Reinvestment Organizer and Barack Obama's organizing mentor

"A very timely book! Tim and Dan invite you down a path that's, as they describe, not for the faint of heart or the dull of spirit. They include thoroughly researched organizational practices to help along your journey."― Rev. Vanna Fox, Senior Vice President, Wild Goose Festival

"This book doesn't allow us to whine about what's wrong in the world or the church: it is a bold and prophetic call to practical actions of compassion and conviction. It can serve as a field guide to re-envision the church as a neighbor who both loves and practices compassion but it is a bold and prophetic call to both reflective and decisive engagement as artists who fearlessly craft something beautiful in ordinary and familiar neighborhoods in your town and mine. What the reader cannot do is to remain disengaged from the agency of activism in the life of the Body of Christ."―Keith R. Anderson, President, Seattle School of Theology & Psychology and author of A Spirituality of Listening and Reading Your Life's Story: An Invitation to Spiritual Mentoring

"In a season of fearful speculation about what the future holds for the Church, I believe more than anything that the future belongs to churches who have deep relationships, strong local commitments, and a community ethic of working toward a beloved community. In other words, I believe the future of the church belongs to churches like Tim's, churches you will likely never hear about who do the quiet work, day in and day out, of faithful discipleship. Many pastors and faith communities want to be this kind of church; most don't know how. This book is for them. With clarity of vision and a plethora of practical applications, Organizing Church will guide your congregation toward being an active participant in both personal and communal transformation in your community. I highly recommend this book to pastors, lay leaders, and all followers of Jesus who are looking to reexamine their understanding of church and reclaim its prophetic and transformative role in society."― Danielle Shroyer, author, speaker, pastor

"J. I. Packer once observed that the problem of evangelical and free churches is they suffer from a 'stunted ecclesiology.' If his diagnosis was correct, and I believe it was, then Conder and Rhodes offer the equivalent of an ecclesial growth hormone therapy. The ecclesiology they propose begins at the level of practice and moves to theological reflection. This book should be at the top of the list for anyone seeking to understand what it means for congregations to be the Body of Christ's continuing presence in the world." ―Curtis W. Freeman, Duke University Divinity School, author of Contesting Catholicity and Undomesticated Dissent

"You think you have heard about white evangelicals in politics. But have you heard this other (very different) story that Conder and Rhodes tell? One of congregations organizing for justice with black and brown sisters and brothers, learning from the IAF and the NAACP, working for justice for all people and creation, participating in bringing the kingdom Jesus preached? The former might win you the White House. But the latter is bigger and more lasting—it points to--no, it is--the Beloved Community. This book is brimming with grace and wisdom and hard work and good cheer."― Jason Byassee, Vancouver School of Theology