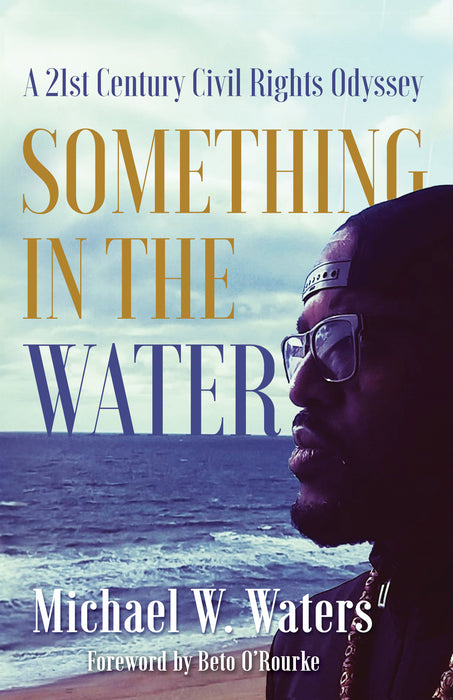 Something in the Water: A 21st Century Civil Rights Odyssey
Foreword by Beto O'Rourke

LOOK INSIDE
Also available at: Bookshop | Amazon | Barnes & Noble | Books-A-Million 
"A wake-up call to Americans in general and the church in particular."–Publishers Weekly
Award-winning author, pastor, and civil rights leader Michael W. Waters takes us on an epic journey to the sacred places and spaces he visited as part of a cross-country trek in 2019-2020 through America's racial history – and the haunting legacy it requires us to face today.
Through poems and prayers to sermons and eulogies, from rally cries to  political and historical commentary, Something in the Water illuminates not just our present struggles, but also the hope and belief in a better day to come. Ultimately, Waters challenges us to consider our role, collectively and individually, in the troubled waters of racism, and what we are willing to do to create a more just and equitable world for all.
DOWNLOAD the Companion Guide created for use in congregations, campus ministries, classrooms, and community centers.
Reviews & Endorsements
"Waters, an African American pastor and civil rights activist, delivers a blistering critique of white supremacy and racial injustice in this trenchant collection of sermons, poems, and commentaries. This concise, incisive work should be a wake-up call to Americans in general and the church in particular."–Publishers Weekly
"Michael Waters reminds us that America's original sin of racism is insidious and ever-present, and must be boldly confronted and thoroughly dismantled if we are ever to move forward as a true multi-racial democracy. This is a compelling and transforming book that is coming out at exactly the right time, and I would especially urge all Christians to read it--and be inspired to both speak and act."
–Jim Wallis, founder of Sojourners and New York Times bestselling author of Christ in Crisis

"I am grateful to know that through Waters' words, my journey has not been forgotten, and through Waters' work, the moral arc is still being bent towards justice."–Sarah Collins Rudolph, author of The 5th Little Girl: Soul Survivor of the 16th Street Baptist Church Bombing 

"Every white Christian like me needs a black pastor and teacher. In Rev. Dr. Michael Waters, I also get a prophet as well. I am grateful that this rich collection of insightful writings is available so that more and more of us can be among his congregation -- not just to be instructed in mind and inspired in spirit, but also to be motivated for action in our ongoing movement toward a more perfect union and beloved community."–Brian D. McLaren, author and activist

"The voice of Michael Waters booms from the pages of this book like a thunder-call for justice. The perfect combination of historical journal, personal essay, and poetry, this book should be required reading for every American."–Kerry Connelly, author, Good White Racist: Confronting your Role in Racial Justice

"The Reverend Dr. Michael Waters is a faith leader with a deep moral conscience who inspires with his words and actions daily. Having been by his side through many moments of struggle, it is a blessing he lets us into his thoughts that keep him going, and keep us thinking."–Imam Dr. Omar Sueiman, professor, and founder/president of the Yaqeen Institute for Islamic Research

"Something in the Water is a must read; a refreshing narrative about what we continue to face in America with a new fresh context and raw truth-telling by one of today's most esteemed scholars, young, woke pastors, and teachers."–Sharon Risher, author, For Such a Time as This: Hope and Forgiveness after the Charleston Massacre

"Michael Waters wades into the liminal space between the Civil Rights Movement and the current movements for racial justice in America and reminds us of just how far we have not come. Through his narratives, Waters shows how the personal is always political and the private easily becomes public for black and brown people from the sea to shining sea of white supremacy in America. However, the current movements for racial justice afoot beckon us to jump in and get into "good trouble" as a prophetic witness that God's gonna trouble the water."–Leah Gunning Francis, Vice President for Academic Affairs at Christian Theological Seminary and author of Ferguson and Faith: Sparking Leadership and Awakening Community