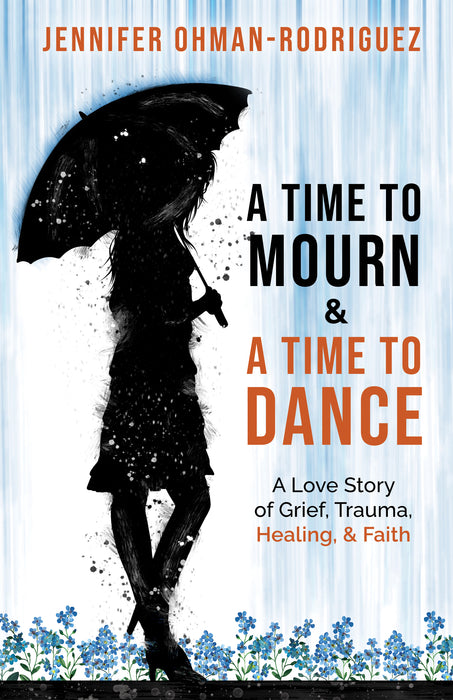 A Time to Mourn & A Time to Dance: A Love Story of Grief, Trauma, Healing, & Faith
Also available: Amazon | Barnes & Noble | Bookshop.org | Books-A-Million
Tony Rodriguez was a compassionate and well-respected trauma therapist who devoted his life to helping survivors thrive, until his life was cut short in a tragic accident. Traumatized by the sudden loss of her husband and overwhelmed by the impact of his untimely death on their two sons, Jennifer Ohman-Rodriguez was determined to blaze a path toward healing.
From the excruciating days immediately following his death, to navigating the bewildering labyrinth of young widowhood, to forging a new life for herself and her sons, A Time to Mourn & A Time to Dance chronicles her story with unabashed honesty and deep vulnerability, blended with authentic faith and teeth-clenching determination to do the hard work of healing.
Ohman-Rodriguez retraces her own steps out of trauma's grasp from the depths of despair back to the joy of living. This book is infused with Jennifer's heartfelt prayers, real-life applications of somatic and spiritual healing practices, and the kind of profound and practical wisdom that only reveals itself in life's moments of truth.
Endorsements
"Phrase after visceral literary phrase, as if gasping for air, Jennifer Ohman-Rodriguez draws us to the trauma following the horrific death of her husband, which is pummeling her and her two young sons. You'll be on the edge of your seat watching her navigate the emotional rubble and recount the love story of her life. Jennifer shows how layering in trauma therapy help her discover a way to heal."—Stan Tatkin, PsyD, MFT, co-founder of the PACT Institute, and author, We Do: Saying Yes to a Relationship of Depth, True Connection, and Enduring Love
"Ohman-Rodriguez invites the reader into a circuitous journey of grief through staccato, punchy sentences. Her writing embodies how unexpected grief pummels a person like a relentless boxer, with gut punches one least expects. She opens a theological depth to grief which rejects sappy, happy endings but faces the depths of despair into which the Risen Christ accompanies. This is a book for those brave enough to enter and linger in grief embodied but who yearn for something more than platitudes to address the traumas of our time. If you have the courage to call wrenching grief what it is, you have a worthy companion in this book."—Rev. Robin Steinke, President, Luther Seminary 
"This intimate book invites each of us into the pages of a personal story of grief and trauma. Yet, it allows us to connect with the communal shared experiences we all carry in times of gut-wrenching grief. It's raw, honest, vulnerable, and faith-filled passages lead us to healing and faith. Ohman-Rodriguez weaves personal story with God's story and in so doing invites each of us to witness to that pain and share in the proclamation: death does not have the last word. This is a resource for our time and one that will guide us in our mourning and our dancing." —Bishop Kevin L. Strickland, Southeastern Synod of the ELCA
"In a world that reduces grief into a problem that needs to be solved and often insists that you return to the person that you'll never be again, Jennifer Ohman-Rodriguez invites us into her unfiltered journey following the drowning death of Tony, her beloved husband, father of her two young sons, and respected trauma therapist and author. This poignant, painful, honest journey is a powerful reminder that grief is not linear. Grief cannot and should not be standardized or reduced into platitudes, piousness, or potluck dinners. A Time to Mourn & A Time to Dance is more than a book, it is a gift that is infused with wisdom, anguish, goodness, faith, reality, hope and grace. It is an invaluable resource, especially for those navigating the turbulent waters of gripping loss and pain."—Mari A. Lee, LMFT and author, Healing from Betrayal and co-author, Facing Heartbreak: Steps to Recovery for Partners of Sex Addicts
"Part poetry, part prose, A Time to Mourn & A Time to Dance is a tragic love story of grief and loss. Unvarnished in the fight for her life after the death of her beloved, Ohman-Rodriguez's poignant journey delivers the reader into the arms of hope and healing. This book is for anyone who's loved and lost or who wants to know how to serve others who have suffered a traumatic loss."—Alexandra Katehakis, author, Mirror of Intimacy: Daily Reflections on Emotional and Erotic Intelligence
"A Time to Mourn & A Time to Dance is an honest, unconstrained, and unforgettable story of trauma, loss and healing. Ohman-Rodriguez weaves the deep elements of grief into the courage and strength she summoned to arrive at healing—'wind propelling us toward life, not away from it.' Her work is a profound and needed teaching about trauma recovery and perseverance, masterfully told."—Paula D'Arcy, author, Winter of the Heart and Stars at Night
"The halting sentences that shape A Time to Mourn & A Time to Dance profoundly illustrate the physical, mental, and spiritual experience of halting grief. I experienced the author's writing style to model her own advice in the response to trauma, 'repeat small messages' and then as I read my own short and shallow breathing gave way to deep healing cleansing breath, not negating trauma and grief, but inhaling and exhaling hope. May her readers feel beckoned to breathe and pray through her witness of her own journey from mourning to dancing."—Bishop Amy Current, Southeastern Iowa Synod, ELCA
"With word pacing and pictures that grab your guts from the inside out, Jennifer Ohman-Rodriguez takes you on an intimate journey through death and survival. Readers witness depths of suffering while being guided into practices of healing centered in the pit at the foot of the cross."— Rev. Jan Schnell, Ph.D., Assistant Professor of Liturgics, Wartburg Theological Seminary
"This is a book about love and loss, trauma and healing. Jennifer Ohman-Rodriguez's beautiful prose paints an honest portrait of the heart-breaking reality of sudden grief, and also of the possibility of new life after the cataclysm. This is a story that offers profound insight to those who have experienced loss and to those who care for them."—Kathryn Schifferdecker, Professor and Elva B. Lovell Chair of Old Testament, Luther Seminary