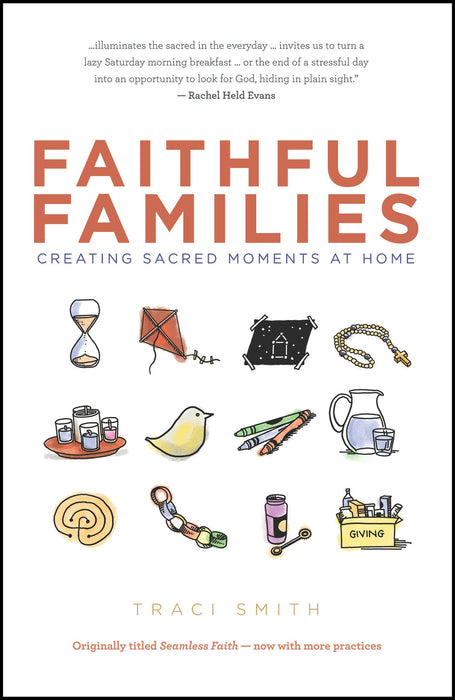 Faithful Families: Creating Sacred Moments at Home 50-Pack
Save

Liquid error (snippets/product-badge line 32): Computation results in '-Infinity'

%
Foreword by Rachel Held Evans
Discover more than 50 faith practices for you and your family!
Add family faith moments to your daily routine with little or no prep, and share meaningful spiritual experiences with your children. Traci Smith, a pastor and mother of three, offers creative ways to explore and develop new spiritual practices as a family, whether you're a new seeker or a lifelong follower.
Brimming with more than 50 easy, do-it-yourself ideas to share with your family throughout the year, Faithful Families will help transform your family's everyday moments into sacred moments!

Download FREE sample practices from the book:

Faithful Families helps you:
connect faith to your family's everyday life
add family faith moments into your daily routine
learn new spiritual practices alongside your children
teach your children to appreciate religious diversity with time-tested non-Christian and Christian spiritual practices
respond to life's everyday challenges and opportunities with meaningful practices
Faithful Families 
is the perfect gift for:
Parents, Grandparents, Aunts and Uncles!
Baptisms
Baby Showers
New Families
Christian educators and those they serve
Preschool Classes
Godparents
Ordering in bulk quantities make purchasing copies for new member welcomes, baptisms, and classes easy and economical!

Endorsements
"In a culture that has become isolating, technological, fractious, and cold, Traci Smith has given us a survival kit of practices to help families stay close to what is sacred, meaningful, intimate, and alive. Faithful Families will not only help parents nurture the souls of their children, it will keep them sane within the chaotic forces of 21st century family life." —Mark Yaconelli, author, The Gift of Hard Things and Contemplative Youth Ministry
"This is a great book to give as a present for a baptism, birthday, or Christmas. I think this is a fabulous resource for families as well as for church leaders. While all the practices are designed for use in the home, some could also be adapted for a Sunday school or youth group setting." —Anna Greenwood Lee, Anglican Theological Review
"This book is a must-have for any family wishing to live as faithful disciples of Jesus. Traci Smith has created a gold mine of resources, ideas, and practices that invite children, teens, parents, grandparents, aunts, uncles, cousins, houseguests, pets—everyone who makes up all kinds of families—to actively form one another in authentic Christian faith. Get this book for your family. Give it to families in your faith community. Drop copies of it from an airplane. It's sure to have an impact on all who use it."—David M. Csinos, Assistant Professor of Practical Theology at Atlantic School of Theology and Founder of Faith Forward

"Traci Smith teaches us how to slow down, to create sacred space and time in order to nurture a child's soul. This book is a gift of the spirit." —Rabbi Sandy Eisenberg Sasso, author of God's Paintbrush, Creation's First Light, and many other award-winning children's books

"Traci Smith is a gracious guide through practices that are simple, profound, and welcoming." —MaryAnn McKibben Dana, author of Sabbath in the Suburbs: A Family's Experiment with Holy Time
"I loved these ideas for families to practice faith and follow the church calendar. The different activities are marked by age and offer variations. I will be picking up a physical copy to put on my shelf with To Dance With God by Gertrud Mueller Nelson and The Circle of Seasons by Kimberlee Conway Ireton. I love all three books, but this is the one that is the most activity-based. If you are familiar with the rhythms of the calendar year and are simply looking for ways to celebrate it, I highly recommend this as an option."—Kari Baumann, throughaglass.net
"[Traci] Smith's book is, in the most literal sense, a Godsend. It is chock full of imaginative, provocative and developmentally appropriate practices for families to engage in. ....This book presents parents, pastors and teachers with a beautiful and flexible set of practices. Smith is clearly open to the breadth of theologies within the Christian family, as well as local and contextual issues: all of her practices come with suggestions for how they can flex and adapt. It is a gracious book, a clear picture of how our faith can be seamlessly integrated into the seasons of our lives, growing and changing through the years."—Kelly Boubel Shriver, The Presbyterian Outlook
"In her new book Faithful Families, pastor and author Traci Smith provides a treasure-trove of family-friendly, low-and-no-budget activities that carry with them the power to turn even rushed meals and lazy Sunday afternoons into spiritual experiences. The text is a resource guide chock-full of creativity; perhaps it would read more naturally as a reference book ―complete with a handy table of contents!―than it would be to read cover-to-cover. 
Traci Smith offers a great gift to busy families everywhere: accessible and achievable spiritual practices that bring awareness to the presence of God that is found in the midst of the everyday, mundane, tabletop moments too. Thanks be to God, indeed."― T.J. Romaley, "From Mountaintops to Tabletops: A Book Review of Faithful Families," Musings and Meditations (Read the full review)


Also Available:

Faithful Families: Creating Sacred Moments at Home 5-Pack
Faithful Families: Creating Sacred Moments at Home 10-Pack
Faithful Families: Creating Sacred Moments at Home 20-Pack