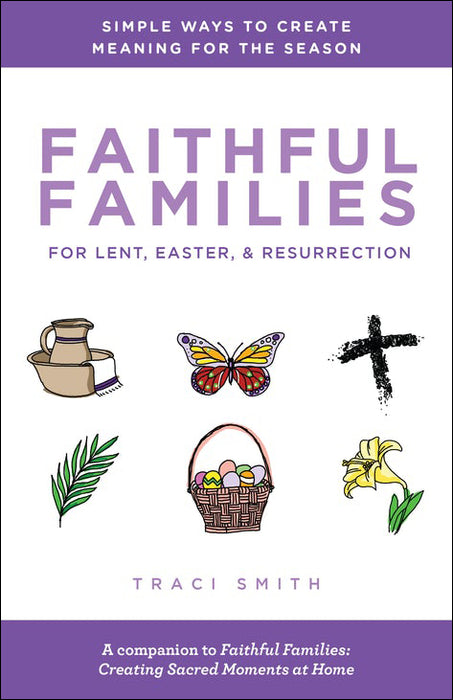 Faithful Families for Lent, Easter & Resurrection
Also available from: Amazon | Barnes & Noble | Bookshop.org | Books-A-Million
How do you share the deep mysteries of Lent, Easter, and Resurrection with children?
Parents, guardians, teachers, and ministers will find dozens of fun and easy practices for celebrating the Easter season with our kids. The practices and seasonal prayers are grouped into chapters titled Ash Wednesday, Symbols, Lenten Prayers, Lenten Refraining, Lenten Acts of Service, Holy Week, Easter Vigil and Easter Day, and the Season of Resurrection. Smith also offers theological notes guiding parents on addressing the violence of the crucifixion and the meaning of Jesus' death.
ENDORSEMENTS
"Traci Smith has done it again! In Faithful Families for Lent, Easter, and Resurrection, Smith welcomes us to let intuition be our guide us as we journey with her through Lent and then celebrate the season of Easter. She is as clear and engaging as ever, providing fresh and engaging prompts and practices that can be done in the 'holy mess' of family life. I highly recommend!"—Jennifer Grant, author of Maybe God Is Like That Too and Dimming the Day
"Faithful Families: For Lent, Easter, and Resurrection by Traci Smith is an excellent resource for anyone who has struggled to share the more difficult portions of the Jesus story with children during this high holiday season. From the reminder that we are the stuff stars are made of on Ash Wednesday, all the way throughout Lent, and culminating in Easter's focus on Resurrection, the triumph of life, hope, and justice shines bright for our little congregants. This is the book I wish had existed when my children were young. Whether you are a parent or involved in children's ministry desiring a better approach to sharing the gospel narratives during the Easter season, this book will help you do so in honest yet healthy, age-appropriate, and life-giving ways. I unreservedly and passionately recommend this timely and much needed volume."—Herb Montgomery, Director, Renewed Heart Ministries 
"In her typical, easy-to-read, accessible style, Traci Smith offers yet another thoughtfully-penned, practical resource in her popular Faithful Families series that will be welcomed by progressive pastors and parents alike. If you buy only one book for the Easter season, make it this one."—Glenys Nellist, author of 'Twas the Morning of Easter and Good News! It's Easter!
"Family rituals for Lent and Easter without a disproportionate focus on blood? Yes, please! The gentle suggestions in this book of practices will be a perfect fit for gentle parents wanting to mark this particular season of the church calendar."—Cindy Wang Brandt, Author of You are Revolutionary and Parenting Forward
"Traci Smith's book isn't just for faithful families—it's for holy households! People of all ages can choose from Traci Smith's collection of creative, reflective practices and prayers to deepen their journey with God in Lent, Easter, and the season of the Resurrection." —Wendy Claire Barrie, Author of Faith at Home: A Handbook for Cautiously Christian Families and The Church Post-Sunday School: How to Be Intergenerational and Why It Matters
"Faithful Families is the resource families need as they move through Lent, Easter, and the Resurrection. Smith's theological and historical grounding draws readers into the purpose of preparation and celebration and inspires them to respond. In a time that is shadowed by overwhelm and anxiety, she offers a simple invitation alongside practical suggestions families can try as they journey through this holy season together. Families will be encouraged and strengthened in their love for God and each other."—Rev. Dr. Tanya Marie Eustace Campen, Intergenerational Discipleship, Rio Texas Conference, United Methodist Church