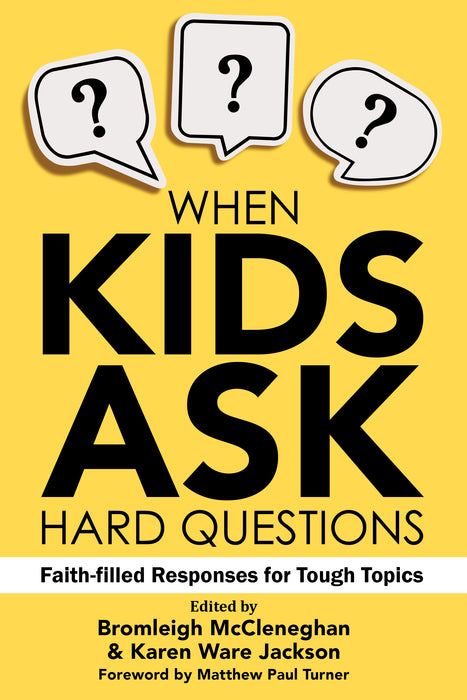 When Kids Ask Hard Questions: Faith-filled Responses for Tough Topics
Save

Liquid error (snippets/product-badge line 32): Computation results in '-Infinity'

%
Foreword by Matthew Paul Turner
A "Best Religion & Spirituality Book of the Year " –Library Journal
Order with When Kids Ask Hard Questions, Vol 2 and save 30%.
When your kids ask the big questions, what will you say?
Our kids are wrestling with harder and more complex issues than ever before. How do we respond to their questions thoughtfully, honestly, faithfully? In this collection from more than 30 progressive young parents, pastors, and experts, listen in on responses to some of today's toughest topics - from gender identity, racism, bullying, suicide, and gun violence, to divorce, blended families,  money, technology, faith, and more - and learn how to craft your own  faithful answers. 
When Kids Ask Hard Questions models thoughtful and faithful responses to the big questions and shares how to create safe spaces for the important, on-going conversations with the kids in your life.
While the responses are aimed at children aged 5-12, many chapters include suggestions for pre-school and older kids/teens as well. Each essay includes a resource list for further exploration. 

Download the FREE Study Guide for Parents, Caregivers, and Small Groups
Chapters Include:

Crafting a Family Culture of Conversation
Who Am I? Reflecting on Bodies and Souls
Stuck in the Middle: Understanding Your School-age Child

"How Come He Won't Talk to Me?" Building Friendships with Disabled Peers

That's What Counts: Navigating Questions about Gender and Identity

Good Enough for Jesus: On Body Image

Let's Talk about Sex: Meeting Curiosity with Honesty

A Coat with Many Pockets, an Overwatered Plant: Using Metaphor to Discuss Mental Illness and Addiction

God's Not a Fan: Talking about Suicide
Who Are We? Reflecting on Families and Relationships
Being a Friend

We Go Together: Blended Families

How Will We Tell Our Children We're Getting Divorced?

Getting Attached: Foster and Substitute Parenting

Why Did This Happen? Reflecting on Loss
Love Never Ends: Comfort and Assurance in Times of Grief

"She's Having the Temper Tantrum You Want to Have": Kids and Pregnancy Loss   

Giving Kids a Voice in the Wilderness: Grief

What Am I Afraid Of? Reflecting on Fear and Courage
Why We C.A.R.E.: Engaging Kids about Racial Discrimination
Fearfully and Wonderfully Made: The Adultification of Black Girls
Courage and Hospitality: Talking about Race with Children and the Church
"Why Can't I Wear This Costume?" Helping Kids Understand Cultural Appropriation
Are We Doing More Harm than Good Teaching Kids about the Violence of the Cross?
Asking the Tough Question about Bullying: "What Happened?"
Talking to Kids about Gun Violence
What's Going On? Reflecting on Faith and the Way the World Works
It's Okay To Have Doubts: Lessons on Fact-checking and Faith from Thomas
Love for Your Neighbor: Raising Kids in a Multifaith Community
Raising Holy Sparks: On Honoring Difference
Writing New Scripts: On Mass Incarceration, Women, and Children
A Pledge to Forgive: An Approach to Reconciliation in a Traumatic World
What's Fair? Reflecting on Money and Economics
Disciples, Not Fundraisers: Teaching Faithfulness in Anxious Times
Naming What They See: Addressing Wealth, Poverty, and Income Inequality
Truth and Lies: Reexamining Racial History with Kids
"But Those Are MY Toys!": Generosity
The Life-changing Magic of Setting Limits: Technology
Endless Song: Having Conversations Again and Again
Contributors: Karen Ware Jackson (editor), Bromleigh McCleneghan (editor), Sarah Leer, Mindi Welton-Mitchell, Becca Girrell, Heidi Heath, Emily Peck McClain, Ben Pershey, Rachael A. Keefe, Karin Heller, Margaret Webb, Emily Brown, Eliza Tweedy, Ben and Kerry Dueholm, Kristin Cooper King, Rebekah McLeod Hutto, William J. Hutto, Hazel Salazar-Davidson, Michael Waters, Yulise Reaves Waters, Alexandra M. Hendrickson, Yuki Schwartz, Traci Smith, Sarah Griffith Lund, Terrell Carter, Aliye Shimi, Danya Ruttenberg, Casey Stanton, Elizabeth Grasham, Erica Schemper, Eva Suarez, David Henson, Allie Scott, and Joshua Hammond     
Endorsements
"As parents, sometimes we know the answers, sometimes we don't, sometimes we just want to convene a council with the wisest spiritual leaders before giving our children the thoughtful answer they deserve to their range of questions. This book is that council, seek and find your responses bolstered by compassion, clarity, and confidence." ―Cindy Wang Brandt, author of Parenting Forward: How to Raise Children with Justice, Mercy & Kindness