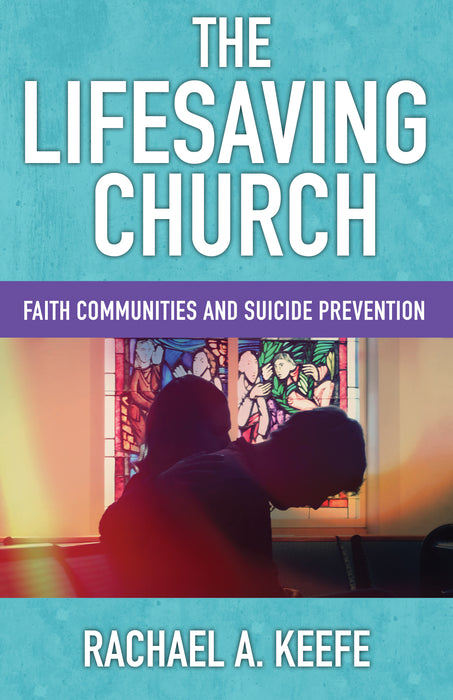 The Lifesaving Church: Faith Communities and Suicide Prevention
Save

Liquid error (snippets/product-badge line 32): Computation results in '-Infinity'

%
"There's so much silence around suicide in the church that it is quite literally killing us." —Rachael Keefe
Every year, millions of people engage in suicidal activity, yet the Church remains largely silent around mental health and suicide prevention. In this intimate and honest new book, Pastor Rachael Keefe shares her own story of life-long depression and suicidality to help churches better respond to those struggling with mental illness in their communities.
With chapters on how to educate your church in suicide prevention, group study reflections around the common questions surrounding suicide, as well as specific resources, scriptures, and prayers for clergy, suicide loss survivors, and those struggling with suicidality, The Lifesaving Church is critical reading for faith communities seeking abundant life for all of its members.

Download the free Study Guide, with additional conversation starters and more. Bulk quantity discounts for group study available.
BULK ORDER SPECIAL: Buy 10+ copies and receive a 30-minute Zoom conversation with the author! Email marketing@chalicepress.com with your order number or for more information.


Endorsements
"In an era of relentless headlines of anxiety and despair, The Lifesaving Church arrives on the scene as a welcome―and welcoming―witness to perseverance and hope."―Robert C. Dykstra, professor, Princeton Theological Seminary
"The Lifesaving Church is an unflinchingly faith-filled resource for Christians helping people who are facing mental illness and considering suicide.
Rather than engaging with the complexity of mental illness, too often the church simply clings to the belief that everything is okay. But when lives are at stake, avoidance is not an option. Rachael A. Keefe calls on Christians to understand mental health, recognize the signs of suicide risk, and care deeply for one another."―Foreword Reviews

"Keefe uses strong narrative and personal insight into the life of someone who struggles with mental illness while searching for God's—and the church's—love and acceptance. Overall, Pastor Keefe's work emphasizes the love of Jesus Christ.... By presenting both a clinical and personal look at suicide prevention in and through the church, Keefe echoes the biblical call to care for those who are hurting by surrounding them with the love and care of the church, the body of Christ."―Church Health Reader

"The Lifesaving Church is a powerful book about suicide prevention that every church leader needs to read. Through compelling and courageous storytelling, followed by practical steps that you can do today, this book is a guide that will help churches fulfill their mission to save lives."―Sarah Griffith Lund, author of Blessed Are the Crazy and Blessed Union

"This book weaves the power of Rachael's personal story with theological and psychological wisdom. 'God is not a fan of suicide,' is a wallop of grace that engages us in the conversation."―Rev. Alan Johnson, United Church of Christ Mental Health Network

"Rachael Keefe is witness to Christ's promise that exposing her wounds to her faith, community, the body of Christ, will lead to redemption. Once redeemed, Rachael's pain became wisdom. She has been able to use her personal flaws as tools to understand and offer healing, compassionate space to others."―David W. McMillan, Clinical and Community Psychologist

"Rachael Keefe's story serves as both a spiritual and practical guide to congregations as they seek to be a healing and hopeful presence to all they serve, especially those struggling with suicide, addictions, and a sense of separation from God, neighbor, and self."―Christie Cozad Neuger, Emerita Professor of Pastoral Theology, Brite Divinity School