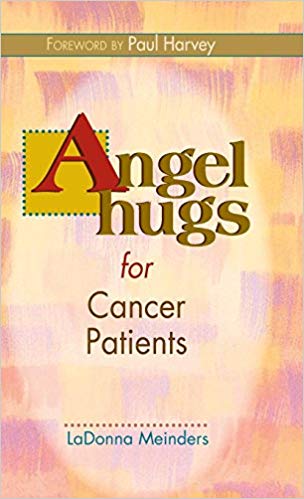 Angel Hugs for Cancer Patients
This book is published by Lucas Park Books and is available in paperback or Kindle at Amazon.com
Foreword by Paul Harvey

Even though the body may be sick, cancer can never destroy the spirit. In these thirty-one reflections, LaDonna Meinders — a cancer patient herself — shares the scriptures, stories, and experiences that have given her strength and transformed her life through this most difficult time. She shows us that we need to care for our spirit, as well as our body, that we can find and give comfort in the simplest forms, and that there is something to be grateful for in every day.
Endorsements
"I am a lay pastor and purchased the books for my parishioners who are going through chemotherapy. They have all reported back to me that this book has brought them comfort as they go through the process of dealing with their cancer. They found the book comforting and the format makes for good reading while they are waiting for their drip to be completed. Since the selections were written by a cancer survivor, they said it also gave them hope and insight. I found the prayers at the end of each selection to be a help for me as I pray with those dealing with cancer. The scriptures and the quotes also make good thoughts for the day for anyone, cancer patient or not."—Delvin A. Strecker, Amazon.com customer review

"This is a helpful little book to give to those in your life that are dealing with cancer. Bless them all!"—L. Wolfe, Amazon.com customer review