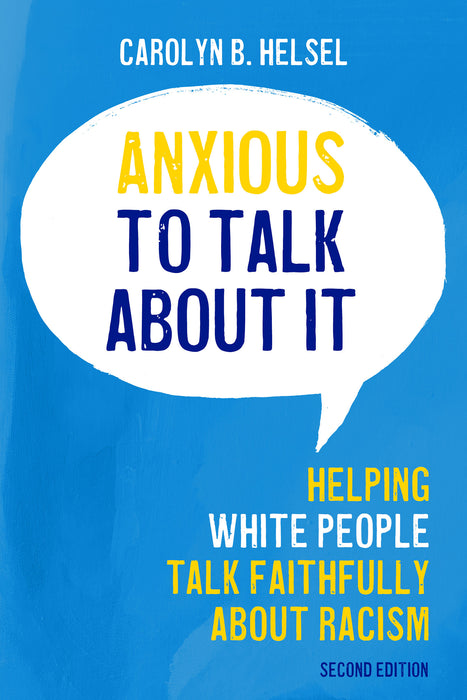 Anxious to Talk about It: Helping White People Talk Faithfully about Racism, Second Edition
Shipping now!
Also available at: Bookshop | Amazon | Barnes & Noble | Books-A-Million
Still anxious to talk about racism? Learn how to join this crucial conversation.

While we know the time to talk about racism is long overdue, many white people are still anxious to talk about it. Guilt, shame, discomfort, fear of being called a racist or saying the wrong thing are just some of the feelings that hold us back from the critical conversations happening around racism and racial equity today. 
In this updated and expanded second edition, anti-racism teacher Carolyn Helsel offers 30% new material for this season of the racial justice movement, including new research and stories, spiritual practices for race talk, and tips for talking to children about racism. 
Get better at having the hard conversations about racism. Reflection questions close each chapter, making this book ideal for sharing with a friend, a small group, or book club.  
FREE DOWNLOAD: Group Study Guide and video introduction. 
WATCH THE BOOK TRAILER
View more video content from Carolyn Helsel here.
Great for Group Study!
While Anxious to Talk about It can be read alone, reading with a group will deepen the discussion, integrate the material, and provide opportunities to practice. Our Group Study Guide and Video Introduction (links above video) and bulk discounts make purchasing copies for small groups easy and economical.
Endorsements
"Anxious To Talk About It is challenging, encouraging, and always faithful. Helsel's insight and wisdom strengthen our discipleship and help us confront the impact of racism through gratitude, gift appreciation, diversity, and self-control. This book is a must-read for anyone desiring to live a spiritual life of self-discovery in the 21st century."–Jimmie Hawkins, Director of the Presbyterian Church (USA) Office of Public Witness & United Nations
"This slim but powerful book will be of most use to white readers looking for a way to have honest conversations about race." ―Publishers Weekly

"From guilt and shame to healthy white identity, Helsel has brought us a much needed guide to white self-awareness on the switchback-ridden journey to becoming anti-racist."―Rev. Dr. Sharon E. Watkins, Director, National Council of Churches Truth and Racial Justice Initiative