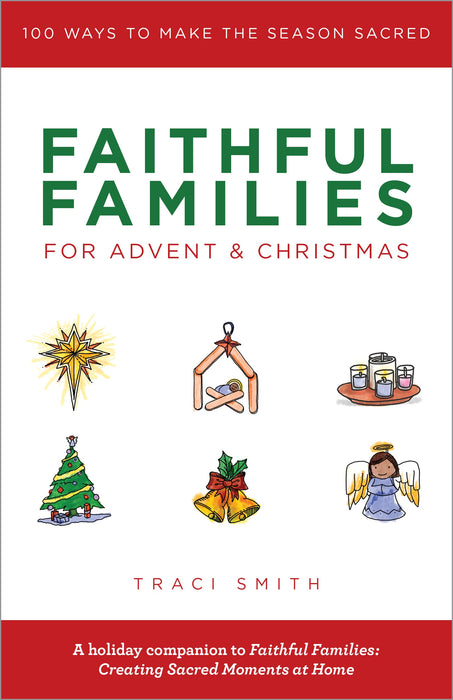 10-Pack: Faithful Families for Advent and Christmas: 100 Ways to Make the Season Sacred
Bookshop | Amazon | Barnes & Noble | Books-A-Million | Cokesbury
Now available in a a pack of 10 copies!
Discover 100 simple and fun Advent and Christmas family faith practices to put the holy back into the holiday season!
From the bestselling author of Faithful Families: Creating Sacred Moments at Home comes this inspiring new holiday companion filled with dozens of practices for Advent, Christmas, and Epiphany. A perfect book -- or gift -- for parents, grandparents, Sunday school teachers, pastors, this new collection of family faith practices is for everyone who cares about the spiritual life of kids.   
The holiday prayers, practices, and stories are grouped by different themes of the Advent and Christmas season, from Decorating, to Family Time, to Giving, to Telling the Story, and more. Practices include: Making an Advent Wreath, Christmas Card Prayers, Hot Chocolate Gratitude Party, Year Round Christmas Gift, Silent Night Star Walk, Birthday Party for Jesus, Leaving Hay for Camels, Memory Box for the Year to Come, and many, many more! There's also a chapter titled "Difficult Moments" with prayers for when family leaves, when someone is in the hospital, when we miss someone, and more.
With pages decorated with whimsical Christmas doodles from the cover, Faithful Families for Advent and Christmas will delight kids and adults alike and offer families an abundance of ideas for making the Christmas season sparkle with faith and spirit.
Endorsements & Reviews
"This book is God's gift to parents, pastors and Christian education directors for Advent 2020." -Lauren G. Cochran, The Presbyterian Outlook
"The gift of Traci Smith's new book is that you can open it anywhere and find one simple, lovely thing to do, pray, tell, or make with your family that day (or let's be honest, as Traci is, maybe the next day) to add joy and meaning to the holiday season. Advent is a time to draw near to God as God draws near to us in the birth of Jesus, and Faithful Families for Advent and Christmas is brimming over with wonderful, easy suggestions to help you do just that." -Wendy Claire Barrie, author of Faith at Home: A Handbook for Cautiously Christian Parents
"The beautiful thing about this book is that even though a plethora of Advent, Christmas and Epiphany practices are presented, author Traci Smith does not overwhelm families, but instead manages to encourage them to celebrate sacred moments and find together the true meaning of this holy season. This book truly is a treasure." -Glenys Nellist, author of Twas The Evening of Christmas and Twas The Season of Advent
"As promised, far from taxing families with MORE to do during hectic Advent and Christmas seasons, Rev. Traci Smith offers families what we really need: LESS to do. In each of these simple, hands-on practices, Smith gives families the tools to slow down, wait, and the focus on all that Jesus coming into the world means. This is a must-have for any family or children's ministry leader's library." -Caryn Rivadeneira, author of Grit and Grace: Heroic Women of the Bible

"Can you have too much of a good thing? Not if you're talking about Traci Smith's creative ideas for infusing faith into daily life. This book is a gift to all who want to enrich the spiritual lives of families as they celebrate Advent and Christmas with one another. Within these pages are rich insights, honest prayers, and compelling practices. Unwrap them with your family and enliven the spirit and the spiritual of the holidays."-David M. Csinos, Founder of Faith Forward and Assistant Professor of Practical Theology at Atlantic School of Theology
"Christmas can be overwhelming and the faith we affirm can get lost in the shuffle. Faithful Families for Advent & Christmas will help families claim their home as a sanctuary from the overwhelming rush of Christmas. Families will also find everything they need to prepare for and celebrate Christmas. Families of all sizes and ages will find ideas to deepen their faith and grow closer to each other."-Lee Yates, Project Manager for InsideOut Outdoor Ministries Resources
"As a parent of young children myself, Traci's words speak freedom and grace directly to my heart. I cannot wait to use this book with my own family! She has integrated our chaos and limitations right into the beautiful and sacred, empowering us to approach a holy season with gentle, manageable, and meaningful intentionality. In Faithful Families for Advent and Christmas, Traci creatively turns all kinds of simple acts into opportunities for both sweet and profound connection. She brings a holistic embrace to Advent and Christmas by guiding us into spaces where we can feel and honor all the emotions we might experience." -Arianne Braithwaite Lehn, author of Ash and Starlight 
"Traci Smith's beautiful new book is an invitation to create and savor new traditions and rituals during the Advent and Christmas seasons. Instead of being distracted and disheartened by the usual culprit at the holidays—consumerism and its shallow promises and payouts—Smith shows us how to grow hope, peace, love, and joy in our homes. Full of fresh, engaging, and helpful prompts and ideas, this book is a gift!" -Jennifer Grant, author of A Little Blue Bottle and Maybe God Is Like That Too