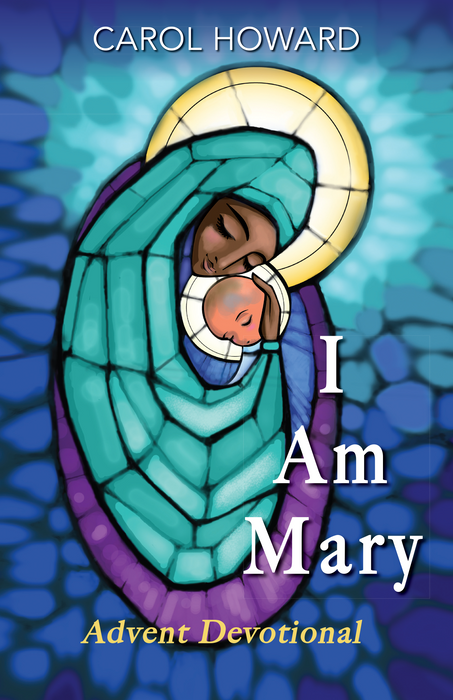 I Am Mary Advent Devotional
"If you're looking for a devotional to give to everyone in the congregation, this is the one. " ~The Christian Century

Open yourself to the divine chaos and wonder that Advent brings.
Experience the Advent story this year through Mary's eyes. In this daily devotional featuring scripture, reflection, and prayer, join young Mary on her extraordinary journey to Bethlehem as she experiences the surprise, confusion, fear, anticipation, and ultimate blessing that follows her brave response to God's call: "Here am I, Lord." Listen carefully, and you may hear that call in your own life.

Best-selling author and minister Carol Howard leads us on a remarkable Advent journey with the blessed ordinary girl who becomes the holy and revered Mother of God. From the first Sunday of Advent through Christmas Day, each week focuses on one theme of Mary's journey, from Annunciation, to Meeting Elizabeth, to The Magnificat, to The Birth. I Am Mary also features four Advent candle-lighting services, plus one for Christmas Day--special liturgies for that sacred moment you light the candles of Hope, Love, Joy and Peace, and the Christ candle at the center of the Advent wreath and our lives. (An alternate set of candle-lighting services is also available as a free download here.)

E-book available through your preferred e-book vendor.

Endorsements

"Carol Howard offers a one-page reflection for each of the days of Advent in a slim booklet that's ideal for group use by members of congregations. The devotions, which cover Luke 1:35 to Luke 2:7, insightfully and eloquently retell each part of the story from Mary's perspective. During her visit to Elizabeth's house, the narrator says, 'Slowly, I savored the truth, as I would eat a fig, relishing its sweet earthy taste. I was bearing God.' Later, she moves her hand protectively over her swelling stomach, musing: 'His body would always be in danger. He would always be threatened, I felt. And yet, hope also kicked inside of me.'
By the end of the story, Mary knows that she has borne the hope of the world, the liberator of all people. Howard's language is evocative and accessible. If you're looking for a devotional to give to everyone in the congregation, this is the one. I can think of nothing more lovely than entire churches full of people this Advent viewing the world through the eyes of a thoughtful, puzzled, faithful, vulnerable first-century teenage girl."―Elizabeth Palmer, Books Editor, The Christian Century