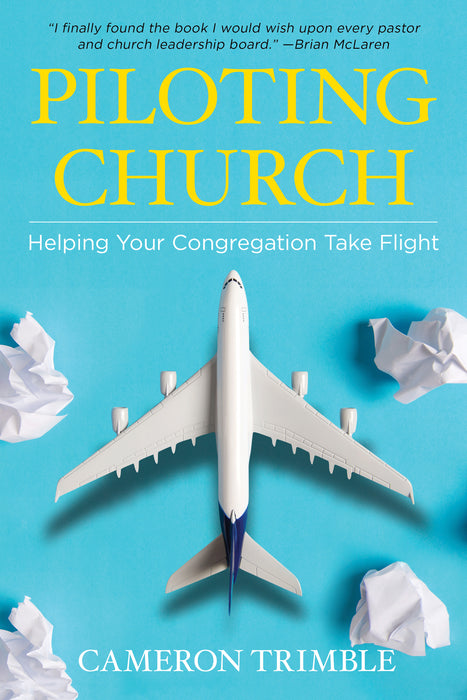 Piloting Church: Helping Your Congregation Take Flight
Save

Liquid error (snippets/product-badge line 32): Computation results in '-Infinity'

%
"A beautiful combination of good theory and sound advice; of dreaming big and working hard." —John C. Dorhauer, General Minister and President, The United Church of Christ 
A majority of churches are grounded - shrinking in membership and resources, unsure how to make the changes needed to be vital again. Pastor and pilot Cameron Trimble has helped hundreds of congregations get airborne again, and Piloting Church: Helping Your Congregation Take Flight guides you through the steps to getting your congregation out of the maintenance hangar and back into the skies.




Using piloting as an engaging framework for organizational transformation, Trimble addresses the process of planning, executing, and completing a church revitalization project in 10 easy-to-read chapters:
·       Decide You Want to Fly
·       What Kind of Pilot Will You Be?
·       The Fundamentals of Flight
·       Your Flight Crew
·       Charting Your Course
·       Preflight Checklist
·       Funding Your Flying Habit
·       Managing Comms
·       Mayday Moments
·       Making a Successful Landing
Each chapter concludes with a personal practice, a congregational practice, and small group discussion questions.
Trimble is the executive director and CEO of the Center for Progressive Renewal (CPR) and has years of experience helping to start new congregations and revitalize older congregations. 
Piloting Church
 reflects her learnings as a congregational consultant and national faith leader. Having worked with twelve denominational partners and their congregations, she believes the Church's best days are ahead.
Endorsements
"I finally found the book I would wish upon every seminarian (and professor!), every pastor (and denominational official), every church leadership board (and committee), and every small group and class. Cameron Trimble is already respected as one of our top church consultants and interdenominational networkers, but with Piloting Church, she also distinguishes herself as one of our best religious writers. I feel like I just ate a delicious meal including a perfect appetizer, fantastic main course, and amazing dessert. Highly recommended!"― Brian D. McLaren, author of Cory and the Seventh Story

"A gem of a book! Both philosophical and practical. Cameron Trimble offers both nuggets of wisdom and practical steps for advancing beyond stuck places. This book is for pastors, for sure, but it is really for anyone who wants to be part of creating new spaces for the thriving of all creation."― Alice Hunt, Executive Director, American Academy of Religion

"Cameron Trimble is an entrepreneurial and spiritual practitioner extraordinaire. She dreams bigger than anyone I know, but has the skills sets, the courage, the tenacity, and the talent to turn dreams into reality. Piloting Church is her gift to leaders who want their own dreams for their churches to come true. Filled with the practical, tactical, and strategic genius she is known for, it is a beautiful combination of good theory and sound advice; of dreaming big and working hard. If you want to lead with vision and precision, put this book on your reading list and get ready to fly." ― John C. Dorhauer, General Minister and President, The United Church of Christ

"Our congregants are being detained by ICE. God's creation is threatened by human-made climate change. LGBTQ people are denied their human dignity. Trimble's book offers a flight plan for those willing to think and lead communities to creatively and boldly live out the biblical call to justice and love of neighbor." ― Jennifer Butler, CEO, Faith in Public Life

"If you care about your congregation's potential, Cameron Trimble is both an inspirational visionary and an incomparable practical guide. Piloting Church provides pastors and church leaders with the wisdom, insight, and motivation they need to fulfill the call and opportunity God is offering. A must read!" ― Jim Antal, denominational leader (UCC), climate activist, author, and public theologian

"A gem of a book, written out of passion for leaders who want to change the world propelled by the power of the Gospel. Through the lenses of a pilot, church and community leaders can take a fresh look at their strategic role in promoting health and vitality in churches embracing and serving their diverse contexts. Hurray for uncle James who encouraged Cameron to fly and discover new horizons, a similar dynamic found in Mordecai and Esther in the Old Testament. I wholeheartedly endorse this book because Cameron's witness and wisdom is much needed for 'such a time as this'"― Ruben Duran, director for congregational vitality, Evangelical Lutheran Church in America

"When it comes to church leadership in this season of our religious lives we faith leaders find ourselves flying blind. There's so much we can't see, and our human existence has never been messier. Many of us are holding space and leading organizations in a time in which our people are anxious, fearful of the future, worried about survival on every level, and longing for human and spiritual connection. In Piloting Church Cameron offers us the extraordinary gift of a flight plan. Not a recipe or an easy formula that promises a perfect outcome but a plan for the journey. Cameron's wisdom and instruction invite us to embody the qualities of an adaptive, creative, and visionary leader. She encourages us to trust ourselves, rely on the God who claims us, and dig deep to discover the courage to soar!" ― Shawna Bowman, pastor of Friendship Presbyterian Church, Chicago