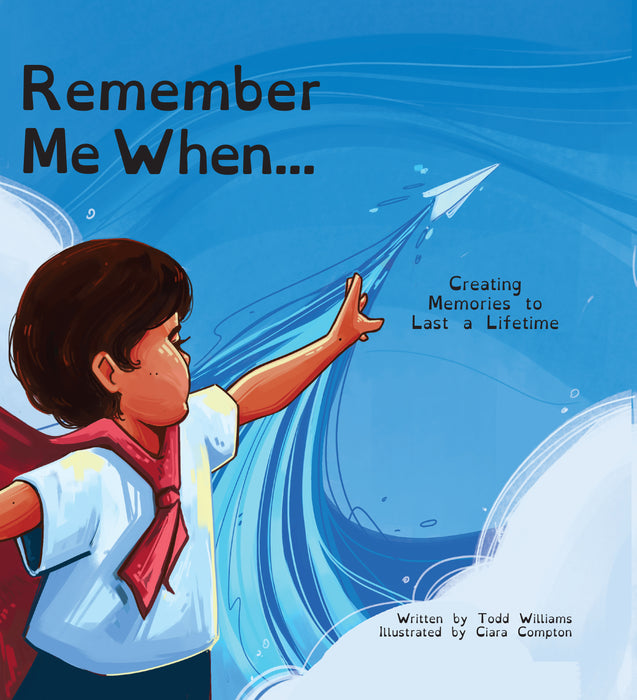 Remember Me When... : Creating Memories to Last a Lifetime
 Amazon | Barnes & Noble | Books-a-Million
"How do you talk to a child about death? Start here. This beautiful book helps contextualize loss, and provides a beautiful memory to share with the family member who will be left behind."—Jodi Picoult, #1 NYT bestselling author of The Book of Two Ways

Do you know how you want to be remembered?
Through this special children's memory book, share the many ways we can remember each other, from eating strawberries in the spring to playing dress up with friends or watching fireflies light up the summer skies. Then add your own family memories to create a life-long keepsake.
Author Todd Williams remembers the day one of his hospice patients asked him if he knew of a book to help her talk about death and dying with children. She wanted to let them know how she would like them to remember her. This patient's question provoked Todd into thinking about how he wanted to be remembered. This book is the result.
Remember Me When… will help you to talk to children about how you would like to be remembered and to create your own memories. This legacy book also includes a blank page for writing in your own remembrance. 
Author, Todd Williams Shares The Inspiration Behind Remember Me When...
Endorsements
"Remember Me When invites children to remember the loved ones they have lost through concrete memories and expressions of joy. The author's expertise and compassion are truly evident in each and every word. Remember Me When deserves a place on the bookshelf of every ministry leader who works with children and their families."—Traci Smith, author of Faithful Families: Creating Sacred Moments at Home