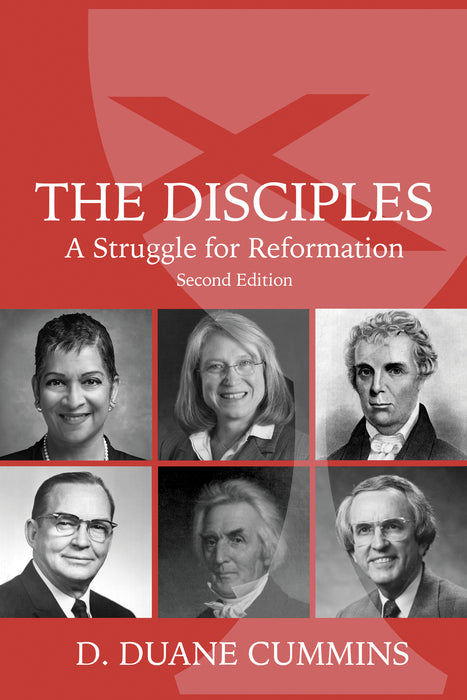 The Disciples, Second Edition: A Struggle for Reformation (Paperback)
Since the first edition of The Disciples was published in 2009, significant new scholarship has appeared on many parts of the Disciples' historic journey, many significant historic events have brought profound changes, and the leadership of the church moved to a new generation.
This new second edition, refined, updated and revised, contains the story of those 15 years along with revisions in how a humble gathering evolved over two centuries into the Christian Church (Disciples of Christ), a modern denomination of international stature. The Disciples: A Struggle for Reformation, Revised Edition discusses how Disciples progressed from congregationalism to Covenant, how they survived the tumult of Civil War, how they developed a ministry of missions on a global scale, and how they met the brutal challenge of 21st century COVID.
Endorsements
"Throughout my ministry, I have looked to Duane Cummins for faithful documentation and interpretation of Disciples' history. This newest volume of The Disciples: A Struggle for Reformation will prove impactful to Disciples everywhere, whether they are 'cradle' or 'new,' giving us all a renewed appreciation for the foundations of faith that have fueled this movement for wholeness. As we continue to imagine who we must be as a new church for a new world, Duane's work will continue to prepare us to be the church we say we are." — Teresa Hord Owens, General Minister and President, Christian Church, (Disciples of Christ) in the United States and Canada
 "Comprehensive, urgently needed, timely and, in eff ect, even pastoral... I highly recommend The Disciples, Duane Cummins' thorough history of the Christian Church (Disciples of Christ) as a stabilizing infl uence in this disorienting era when Disciples seek to discern their future. The Disciples is heritage addressing destiny!" — Peter M. Morgan, Disciples of Christ Historical Society, President Emeritus
"Disciples can rely on Duane Cummins, not only for his invaluable Handbook for Today's Disciples, but for a lifeline from past to the future. Just in time, he has given us a thorough and welcome revision of his 2009 history of the Disciples. This is the real handbook we need for stretching into the future." — Kristine A. Culp, Dean of the Disciples Divinity House and Associate Professor at the University of Chicago
"Duane Cummins has written the only current comprehensive history of the Christian Church (Disciples of Christ) in the United States and Canada—from its earliest beginnings to 2023. An invaluable resource for persons wanting to know the current status of this mainstream Protestant denomination. The Disciples is required reading for anyone seeking to lead in the future of this 190-year-old denomination." — D. Newell Williams, President Emeritus, Brite Divinity School at Texas Christian University
Keywords: Church history; denominational history; disciples; disciples of christ; Christian Church; Christians; Stone-Campbell Movement; revised edition; Alexander Campbell; Barton Stone; generational leadership; Allegheny wilderness; congregationalism; Covenant; Civil War and church; missions; COVID and church