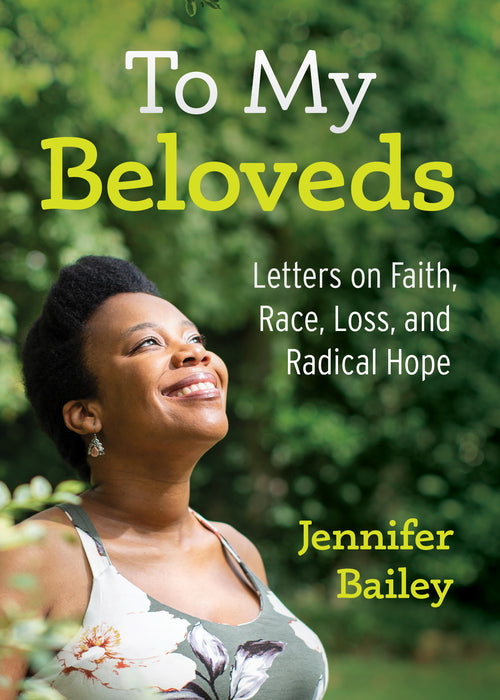 To My Beloveds: Letters on Faith, Race, Loss, and Radical Hope
Also Order on: Amazon | Barnes & Noble | Indiebound | Books-A-Million | Cokesbury
"I could not put this book down. The stories are piercing, the counsel felt both urgent and eternal, the writing shimmers. Jen Bailey is a generational voice."—Eboo Patel, Founder and President, IFYC and author of Acts of Faith
"In this intimate and life-churning call to hope, to healing and to ourselves, Reverend Jen Bailey offers all of what makes her a leader and believer built for these times…whispering to us in every word the ancestral wisdom that we, her readers, are built for them too."—Dawn-Lyen Gardner, Actor & Activist
How do we heal our grief and loss to become the leaders the world needs today? 
In this unique collection love letters to her fellow activists and faith leaders, Jennifer Bailey offers comfort, wisdom, encouragement, support, and hope for young activists and emerging faith leaders aspiring to build a better world amidst its violence, trauma, and loss—and who may wonder if they're up to the task or unsure if they'll ever see the change they seek.
Considering three central questions—what is dying, what wants to emerge, and what is already blooming beautifully—Bailey's poignant letters inspire us to imagine how our grief and despair can be composted into new life filled with courage, hope, and purpose for our shared future.
Endorsements
"Rev. Jennifer Bailey is preternaturally wise and tenderly prophetic­—a visionary tending redemptive possibilities within our present of disarray. To My Beloveds is a wildly beautiful and nourishing introduction of her voice to a wider world. It is a stunning offering of public theology from and for a new generation, yet it could not be more vigorously, lovingly rooted in deep time and place and lineage. This book is a cause for rejoicing."—Krista Tippett, Founder & CEO of the On Being Project and Host, On Being + Curator, The Civil Conversations Project
"Jen Bailey's radical hope points us to joy that can be found in both the mourning and the morning if we take the necessary steps of living into the gifts God has planted in each of us. This book is a moving witness to the power of holy change and transformation."—Emilie M. Townes, Dean and Distinguished Professor of Womanist Ethics and Society, Vanderbilt Divinity School 
"Jen Bailey is wise, and a gifted writer too. For the spiritual misfit and tradition-lover both, Jen's story and prophetic vision will open your heart, sharpen your mind, and prepare your spirit. We are lucky to be her Beloveds."—Casper ter Kuile, author, The Power of Ritual, and co-host of the podcast Harry Potter and the Sacred Text
"I am continually impressed and mesmerized by the genius of Jennifer Bailey. I have learned so much from her since I met her in divinity school, and this book catapulted me into another realm of healing and self-reflection. I cannot wait for everyone to get their hands on her book!"—Prisca Dorcas Mojica Rodríguez, author of For Brown Girls with Sharp Edges and Tender Hearts: A Love Letter to Women of Color
"Black people need soft landing spaces of care, encouragement and love. In To My Beloveds: Letters on Faith, Race, Loss, and Radical Hope, Jen Bailey invites us into the soft spaces in her life. Through intimate letters introducing us to her community, Jen carefully weaves emotions and words into beautiful love letters. To My Beloveds makes you smile with its familiar tone, hold your breath as you feel the heartache, and gives its readers hope beyond hope." —Rev. Dr. Theresa S. Thames, Associate Dean of Religious Life and the Chapel, Princeton University 
"In this stirring and beautifully written collection of letters, Jen invites us to go deeper into our own histories, deeper into our tightest held hopes, and deeper into transformative possibilities for the future. Her vulnerability and the wisdom she gleans from her ancestors and community will serve as a roadmap for creating a more equitable, just, and joyful world."—Lindsey Krinks, author of Praying with Our Feet: Pursuing Justice and Healing on the Streets
"Jennifer Bailey's To My Beloveds is an invitation to share an intimate journey—remembering, imagining, mourning, loving—toward a hope shaped by the wisdom of a wide expanse of sacred relationships. Along the way we are inspired to pull at the tendrils of our own roots, to keep loving forward."—Rev. Dr. Emma Jordan-Simpson, Executive Director, Fellowship of Reconciliation USA
"Intimate, powerful, and deeply wise, To My Beloveds is a healing balm for the heart. I read them all in one night and will savor them for years to come. Let these sacred letters soothe you, awaken you, and inspire you!"—Valarie Kaur, author of SEE NO STRANGER: A Memoir and Manifesto of Revolutionary Love
"Bailey shows unflinching love in the midst of a wounded world. These are the kinds of letters that save lives."—Rev. Tyler Ho-Yin Sit, Pastor and Author of Staying Awake: The Gospel for Changemakers