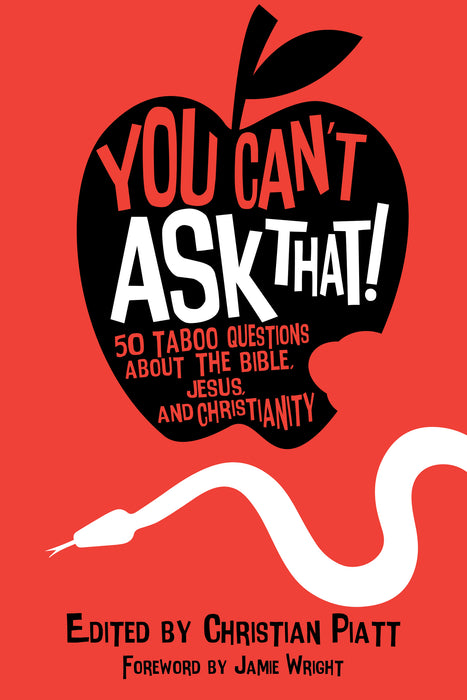 You Can't Ask That!: 50 Taboo Questions about the Bible, Jesus, and Christianity
Foreword by Jamie Wright
Got questions about your faith? We've got answers.
Have you ever had a question about the Bible, Christianity, or Jesus that seemed too awkward or embarrassing to ask? Now you can ask — and be taken seriously for your questions.

You Can't Ask That! tackles 50 of the most provocative, challenging, and hard-to-answer questions about faith and religion with thoughtful responses from today's top religion professors, pastors, and other faith leaders on the topics. 

From questions about Heaven and Hell and the inerrancy of the Bible, to the meaning of the crucifixion, whether Mary was really a virgin, and if Jesus was ever wrong, You Can't Ask That! considers no question off-limits.  Each of the chapters includes several responses to the topic, as well as scripture references, further suggestions for reading, and questions for  discussion, making You Can't Ask That! a great group read, as well. So go ahead, ask your questions -- and be assured that questioning religion is not taboo, but rather the foundation of a strong and growing faith.

Contributors include today's most thought-provoking experts on Christian and theological issues including Nadia Bolz-Weber, Tripp Fuller, Kathy Escobar, Jose Morales, Carol Howard Merritt, Matthew Paul Turner, Bart Campolo, Margot Starbuck, Craig Detweiler, Doug Pagitt, and many more.

Questions in You Can't Ask That! are compiled from the original Banned Questions of the Bible series.

Praise for the Banned Questions of the Bible Series

"This book isn't just entertaining and fascinating. It's inspiring and potentially life-changing. Here's my own question: Can you be curious and thoughtful about religion and NOT read this book? My answer: No."—A.J. Jacobs, author of The Year of Living Biblically 

"I've never seen a book quite like this: short, pithy answers to tough and important questions from a team of articulate, insightful thinkers. You've heard the expression 'pooled ignorance'—but this is the opposite: pooled brilliance. Your own thinking will be deepened by interacting with these sharp minds."—Brian McLaren, author of Naked Spirituality 

"These are some, not all, of the questions many are asking today. These are also some, not all, of the answers serious thinkers are proposing. What this book may do for you is provide an opportunity to ponder anew questions people are really asking about the book we Christians call God's Word."—Scot McKnight, author of Blue Parakeet