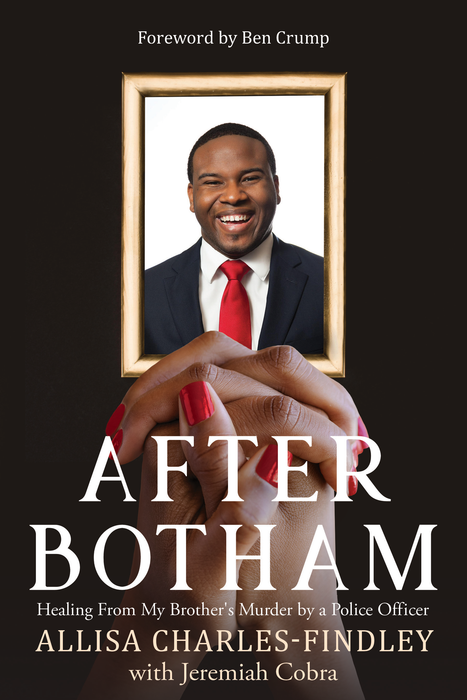 After Botham: Healing From My Brother's Murder by a Police Officer
"When Amber Guyger took Botham Jean's life on September 6, 2018, she murdered more than Bo. She killed his community. She silenced his rich baritone that lowed out across the congregation from the pulpit at Dallas West Church of Christ every Sunday. She ripped away his mother's ability to ever feel her boy's arms around her again. She left a gaping hole at his desk at PricewaterhouseCoopers. She robbed Harding University of a future executive as an alumnus and Saint Lucia of a rising star.

"She tore away Allisa Charles-Findley's best friend. Her brother."
— From the Foreword by Attorney Ben Crump
On September 6, 2018, Dallas police officer Amber Guyger opened the door of Apartment 1478. Inside, Botham Jean lay on his couch, having hung up from the daily call with his sister, Allisa. She'd encouraged her brother to stay home for the night's season-opening Dallas Cowboys game as sports bars would be too dangerous. Guyger instantly assumed the large black man watching the game was a burglar in her home. She shot him, then failed to render aid as he succumbed to the wound she'd inflicted. Officer Guyger forever altered the lives of the hundreds who knew and loved this kind-hearted young man who lead worship at his church and worked diligently at Price Waterhouse Cooper.
Botham's murder shocked the nation. And it devastated his sister. After Botham is Allisa's story of what happened to her brother, and how she fought through the aftermath to find life.

One of a handful of books written by a family member of a Black man slain by a White police officer, this title follows the victim's sister's struggle to get her faith back and find justice for her brother.
About the Authors
Allisa Charles-Findley is the sister of Botham Jean and president of the Botham Jean Foundation, which promotes Christian intervention for social change. She is also president of Sisters of the Movement, a coalition of sisters of police brutality victims working in unity. She holds a Master's in Healthcare Management and, prior to her current social justice work, spent 15 years in health insurance.

Jeremiah Cobra is a teacher and writer in Los Angeles with degrees from Howard University and the University of Southern California. Cobra studied and taught in Japan for seven years. His 2020 debut novella, And Then He Shot His Cousin, was inspired by his experience growing up in foster care from the age of 9.

Ben Crump is a renowned civil rights attorney and one of the nation's foremost
lawyers and advocates for social justice. He has worked on some of the most high-profile cases in the U.S., representing the families of Trayvon Martin, Michael Brown, and Stephon Clark, among others.
Reviews

Publishers Weekly review excerpt: "Interweaving the account with poignant memories of her brother—his gentleness, his love of music—Charles-Findley wades into the complexities of grief that persist long after headlines have faded, the internal battles it gives rise to ('I am not quite where I want to be with God'), and the injustices of a country in which the deaths of Black people 'have been relegated to casualties of war.' It's a powerful tribute." 
Word&Way review excerpt: "As we read Allisa Charles-Findley's account in After Botham of her brother's life and death, as well as her own struggle to make sense of it, she invites us into the struggle. She makes the person of Botham Jean real. He is more than a cause or a name on a list. He is a real person. The same is true of the author and her family. In this memoir, she brings to life the back story of the person who was killed and the family that grieves his death." Full review: