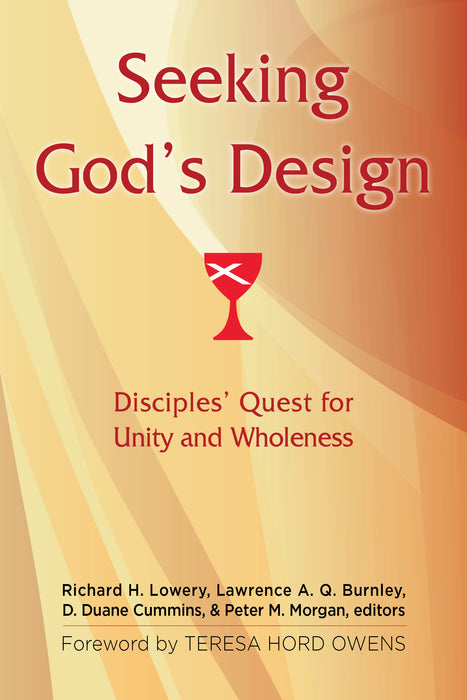 Seeking God's Design: Disciples' Quest for Unity and Wholeness
Save

Liquid error (snippets/product-badge line 32): Computation results in '-Infinity'

%
Seeking God's Design honors the 50th anniversary of The Design. It is focused around a series of audiotaped interviews that Disciples of Christ Historical Society President James Seale conducted from 1989 to 1993 with Disciples leaders who played important roles in Restructure. It provides historical context and offers a series of reflections from key Disciples leaders today, as we honor and critically evaluate the work of our predecessors while looking ahead to the next 50 years of our life as a church. 
 Seeking God's Design is the first volume of the James and Mary Dudley Seale Series on Disciples and Public Engagement, a partnership between the Disciples of Christ Historical Society and Chalice Press.
Why do Disciples of Christ operate by a Design rather than a constitution or bylaws? In 1948, the World Council of Churches (WCC) gathered in Amsterdam for its first Assembly. The theme was "Man's Disorder and God's Design." Human disorder was plain to see in the ashes of post-war Europe and Japan. But the churches had a message of hope: God is building a better world rooted in justice and peace. They called the divine rules of operation for this emerging world "God's design."
The WCC urged churches to evaluate their structures to ensure that they would be well equipped to join God's work of transformation. Disciples, influenced by visionary African American church leaders, understood that in the American context this process had to include concrete measures to heal the wounds of legally enshrined White supremacy.
Out of this work came a "Restructured" church described in two key documents passed at the 1968 International Convention of Christian Churches (Disciples of Christ): Resolution 44, also known as The Merger Agreement, which brought together the African American National Christian Missionary Convention and the predominantly White International Convention, and The Design of the Christian Church (Disciples of Christ). A. Dale Fiers, the first General Minister and President, said that Restructure began with the question "What is God's design for the church?" Rooted in the terminology of that first WCC Assembly, The Design of the Christian Church (Disciples of Christ) describes a church born in eschatological hope, designed to be a harbinger of God's new creation, a sign of God's in-breaking reign of justice and peace.
This book is made possible by the support of the Disciples of Christ Historical Society and its supporters.